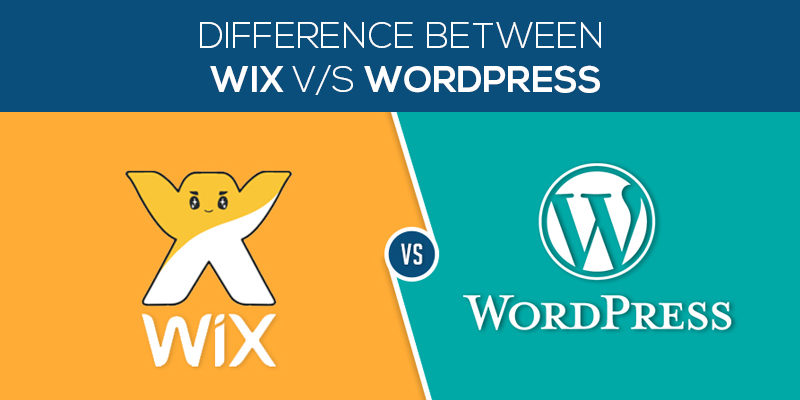 Difference Between Wix V.s WordPress
Last updated on August 11th, 2021 at 06:20 am
Every successful business on the web and off the web requires big ideas, creative people and new technology. Most importantly, a business requires deep understanding of the web marketing policies and proper allotment of the budget. Wix and WordPress are both committed to deliver fact-based and easy to use platform for website management. In addition, they both come up with unique innovation in terms of plug ins, themes and decorative functionalities. In terms of customization for optimum visibility as well as audience response, both of these platforms could end up delivering a dazzling result that can boost up the concreteness and foundation of your brand in the most meaningful way.
An intro to Wix and WordPress
Wix offers numerous features for any professional-grade website. In addition, it allows the users to get a free website. However, being headquartered in Tel Aviv, Israel, Avishai Abrahami, Giora Kaplan along with Nadav Abrahami were the founders of Wix. It is basically a could-based platform for the web development. An Israeli Company named Wix at first launched this project and it has a total revenue of around 30 crores USD. It lets the users to create HTML5 websites effortlessly and mobile sites by using drag and drop tools.
On the other hand, WordPress started its journey in the web in May, 2003. WordPress is a free as well as open-source content management and website management system based on PHP and MySQL. PHP has been used for the internal core codes and MySQL is the database for WordPress. For getting it to functionate, the WordPress must have to be installed on any web server. However, the server could be a part of any internet hosting service or it could be hosted on any pc as well.
Benchmarking Wix and WordPress
Being one of the top-grade website building tool out in the web, Wix and WordPress, could help to create your own website without any technical knowledge base. Yet, for handling advanced matter of facts, you may need to take help from the professionals, as it is always better to stay safe while dealing with important client's data and traffic management. If you are going to use Wix or WordPress, there is no chance of losing your way around, as blending the contents in the system is as easy as buttering the breads.
In terms of dealing with technical matter of facts, Wix is much better, yet both of them are very easy to handle. However, Wix has a lot of limitations as well. If you are going to choose, which one could have been better for you. You need to find out your level of understanding about the technical matters. If you are ready to rock the web and be a tech savvy, try WordPress. Yet, if you want everything to be prepared and all you will do is to drag and drop the buttons, Wix is better for you. Nonetheless, Wix sites have numerous limitations in terms of customizations, as plug in and theme supports are as not user friendly as WordPress.
Once you have signed up for the Wix, the Wixbuilder will allow you to build as well as manage the site within its site builder. It will take care of all of the hosting and it will perform all of the technical heavy lifting for you. Yet, it lacks customization and it will not deliver proper support in terms of themes and plug ins. Whenever you are looking at a Wix site, you will understand that it lacks something. Yet you may not know what exactly it requires. Basically, it lacks the proper customization options. However, how much could you expect from a drag and drop website builder? You may have been using it, if either your technical knowledge is too low, or you do not want to deal with any kind of technical difficulties. However, you must have to understand that your SEO performance will suffer, when you are building a site in Wix. Even sites built-in WordPress suffer too if it could not be optimized properly using the right kind of plug-ins and optimization methods.
While using the WordPress package, you need to install the WordPress in a web server before getting it to be ready to use. It will be a little more complicated than Wix, however, the performance level would be much better. WordPress has to be installed in the server before it can be used. However, you can start using Wix from the very beginning straight away. Only after performing the installation, you will be able to customize your site in WordPress. WordPress offers a good chunk of functionality and delivers a dynamicity in terms of clichés. WordPress offers a wide range of customization options through the plug ins and themes. Let us look into the Wix and WordPress website builder.
Wix website builder
Wis has offered a very easy to use website builder. Yet, it lacks the freedom that the WordPress sites deliver. To use the Wix website builder, you need to sign up in the Wix.com and then, the Wixbuilder will let you build and manage the sites within the wixsitebuilder. It will take care of everything, when it comes to deal with technical matter of facts. It also deals with the hosting, yet you have to install the WordPress into your host at first for using that.
Wix is more likely to be in an apartment instead being in your own house. Where you can customize anything you want in your own house what you cannot in an apartment. You may have been in control of the décor, gated development as well as cleaning. But you have to leave every important matter like constructions, security and infrastructure in the hands of Wix. If you are willing to acknowledge the fact, bring the Wix.com into your business.
WordPress website builder
WordPress website builder is a much better and far superior platform than Wix. If you are thinking about long-term benefits and long run goals, you must have to count on the WordPress. It is possible to accomplish and perform a lot more while using the WordPress website builder. By the way, in terms of features and extensions, it has literally tons. Thousands of plug ins and themes are available in the WordPress site builder and most of them are free to use. WordPress itself is completely free to use. However, you will be requiring a web server and a domain name to use it. Yet, it is possible to run a free WordPress hosted and WordPress built site like XYZ. WordPress.com, yet it will deliver very poor performance in terms of visibility and traffic engagement.
Key comparisons between WordPress and Wix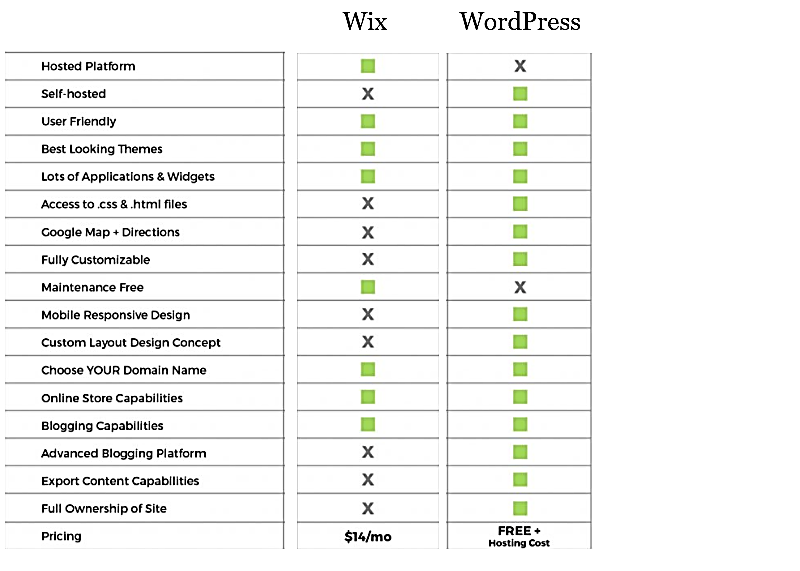 Final Verdict
Whether it is all about increasing web traffic, generating and converting the web leads. As well as increasing the brand awareness, you will get it all in both of the instances. Yet, in terms of customization, blogging maintenance and pricing, there are very few affordable alternatives available to WordPress.