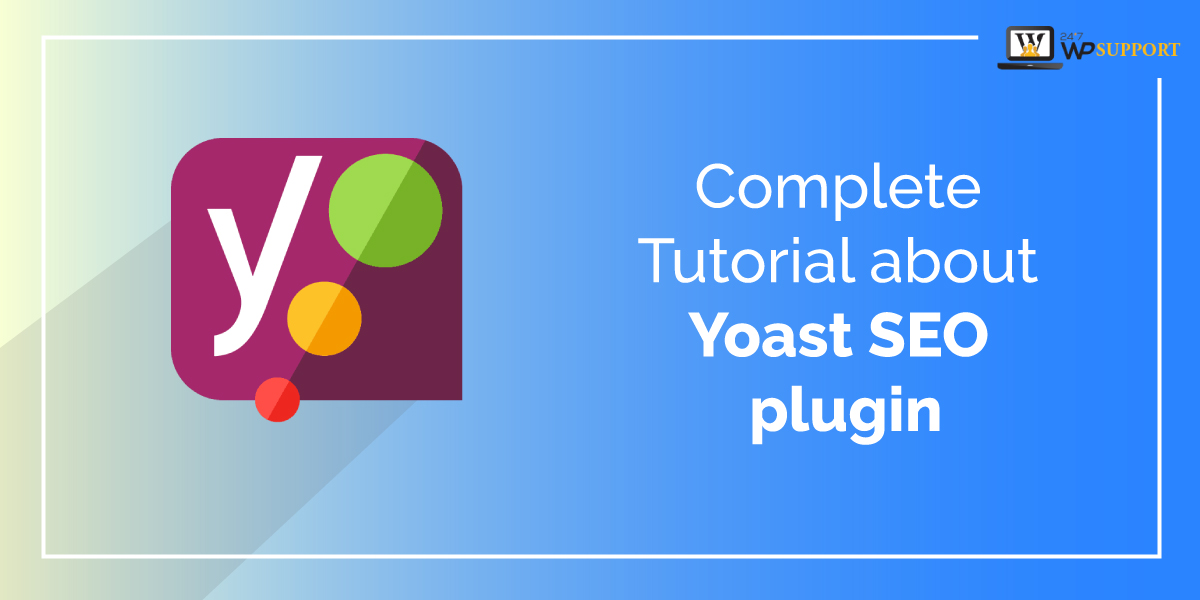 Complete Tutorial about Yoast SEO plugin
Last updated on August 11th, 2021 at 07:23 am
Almost all users know that doing SEO on any website manually is very difficult. It is very valuable if we hire any SQL export to do SEO for our WordPress website. Yoast SEO is not only a single SEO tool there are various types of SEO tools for the customizable content management system. Then Yoast SEO plugin has been released by Yoast organization and makes this work simpler.
In this tutorial, we are going to talk about the Yoast SEO plugin setup. If you put your website live will WordPress then you did know think which SEO tool is going to be installed there is a simple and best solution is to install Yoast SEO tool only. Over 26% of WordPress website install Yoast SEO plugin. More than 500 brands' new website has been created with it. We are going to divide this tutorial into two parts.
Beginner level guide to Yoast SEO
Advanced level guide to Yoast SEO
Are you ready to learn how to use Yoast SEO? Let's take one step deep and learn all basic and advanced fundamentals about Yoast SEO.
Beginner level guide to Yoast SEO
In this type, we are going to learn all the basic fundamentals of Yoast SEO.
How to properly set up the configuration wizard.
What is the purpose of the Yoast SEO meta box?
How the Yoast SEO dashboard is beneficial for us
Yoast SEO configuration wizard
before that users need to install the Yoast SEO plugin after that they can access the Yoast SEO configuration wizard. After completing installing and activating the Yoast SEO plugin then users can see the context menu which is present on the left side of the screen. In that context menu user need to click on the SEO option then a sub-context menu of your in front of the user again user needs to click on the General option now the user will see on your screen appears. those users who using your SEO plugin for the first time they can see the configuration wizard highlight with blue color. User must click on that link it will give you 2 a complete guide of the configuration wizard. As you can see in the image which is present below.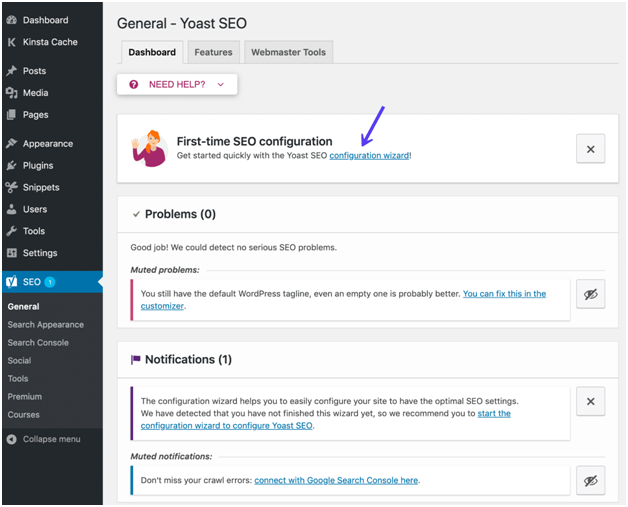 After clicking on that option user will reach To respective sections.
Section 1 environment
Users need to mark the radio button of option A. Only if your website is ready to go live. Otherwise choose option B. Check out the image given below.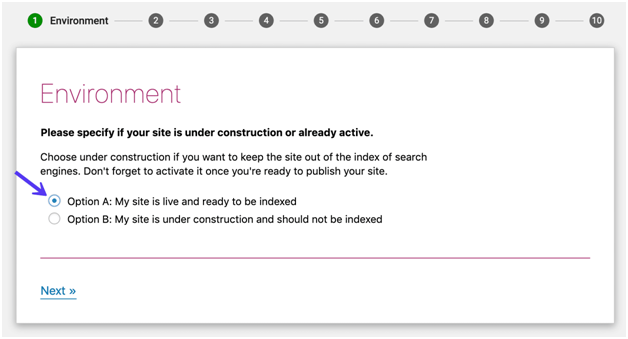 Section 2 site type
In this section, the user will face a lot of option appear in front of the user such as
A blog
An online shop
News channel
Small office business
Corporation
Something else
Users need to choose any one option according to their wordpress website niche. related to this section user can check out the image given below.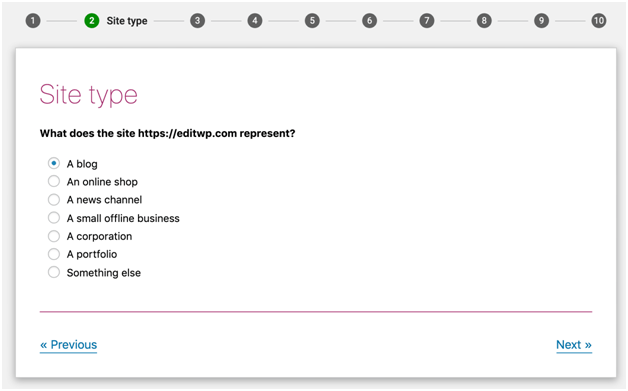 Section 3 organization or person
Hindi section user required to define their website belongs to any organization or any particular person.
What happened if the user chooses the organization option in the Yoast SEO plugin?
After choosing the organization option Yoast SEO plugin going to ask for detailed information about the organization such as
User need to enter the name of the organization
Users need to upload the organization logo (with minimum size 112x112px).
What will happen if you so choose the person option in your SEO plugin?
The user is going to choose a person option then the user required to fill in all their social media profile details. Users do not require to fill all complete social media type of accounts. The user just chooses anyone where users want to promote it.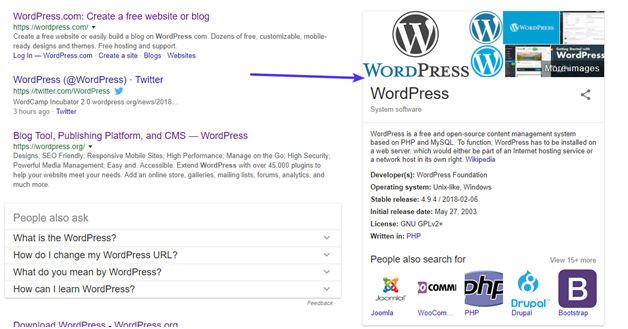 Section 4 search engine visibility
In this section users of having an option that of what type of content the user wants to allow and to be indexed in a search engine. This is our basic and prior suggestion about it that if you do not know about this option leave this option as a default. You can check it out image given below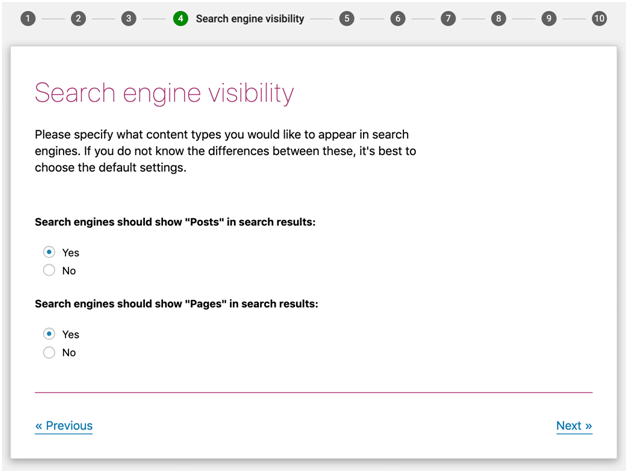 Section 5 multiple authors
Is the name suggests this option is created for those users who are using websites with multiple authors? Yoast SEO mark no index of the particular author. Also, help to avoid duplicate content to be indexed for the same website.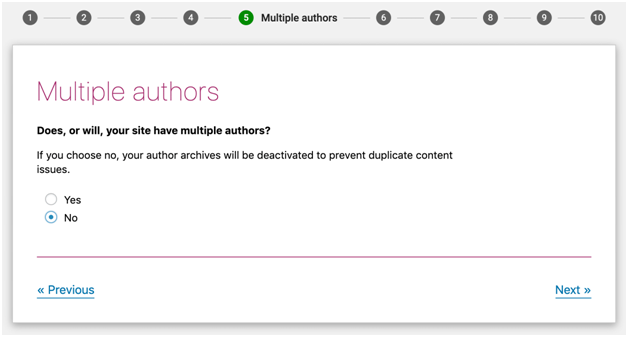 Section 6 Google search console
We all know that Google search console is a tool released by Google. In this tool, users can check out complete information related to their website.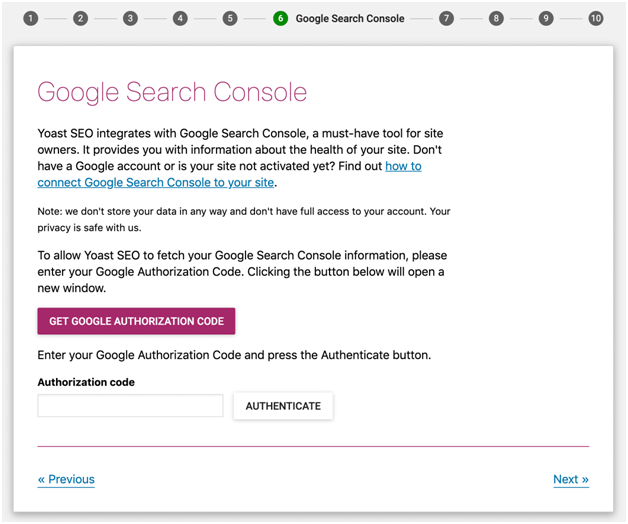 Section 7 – Title Setting
As we know that title is the main heading which is you in the Google search. With the help of the title complete summary has been analyzed about any article. Used as you also make default title.
Now user can see that two sections are present

Your website name
Spectator
You can see in the image given below.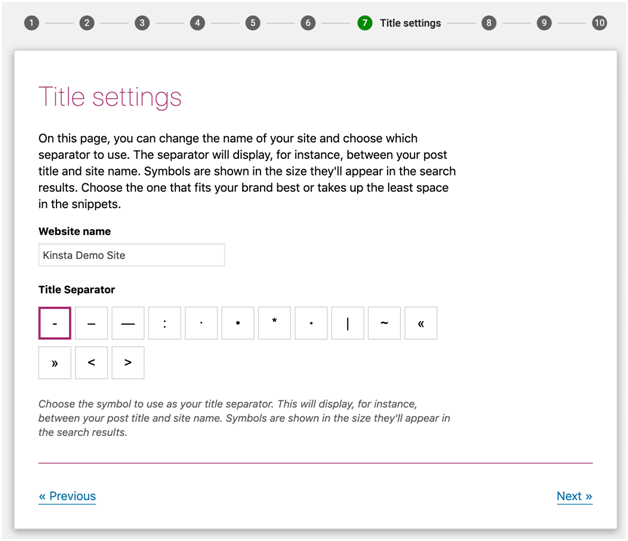 Section 8 and 9 – wrapping up the configuration wizard
In this section, the user needs to do signup for the newsletter and must have to purchase the premium plugin for Yost SEO.
Sign up for the Yoast SEO newsletter
Purchase Yoast SEO Premium, keyword research training, or plugin training
After doing that user needs to keep click on the Next option after you clear section 10 successfully. Check out the final image of Yoast configuration is given below.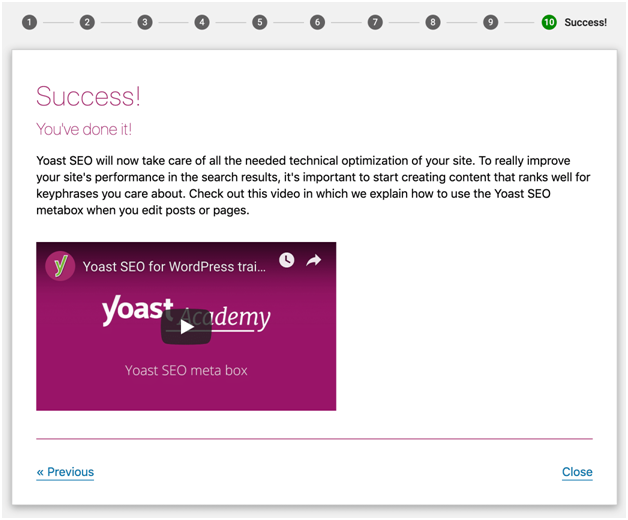 What is the use of Yoast SEO Meta Box?
After successfully configuring the Yoast SEO plugin now users will be going to see a user-friendly interface on their wordpress admin panel. Where user Yoast SEO meta box there is a lot of option present in the meta box.
Yoast SEO analyzing content for SEO quality and reliability.
Configuring complete content according to Google and social media point of view.
User can we use SEO meta box in a different type of location. It totally depends upon the wordpress editor is going to be used by the user. If the user is using block or Gutenberg wordpress editor then it will appear on the right-hand sidebar. There are three ways a user can directly interact with your site SEO meta box.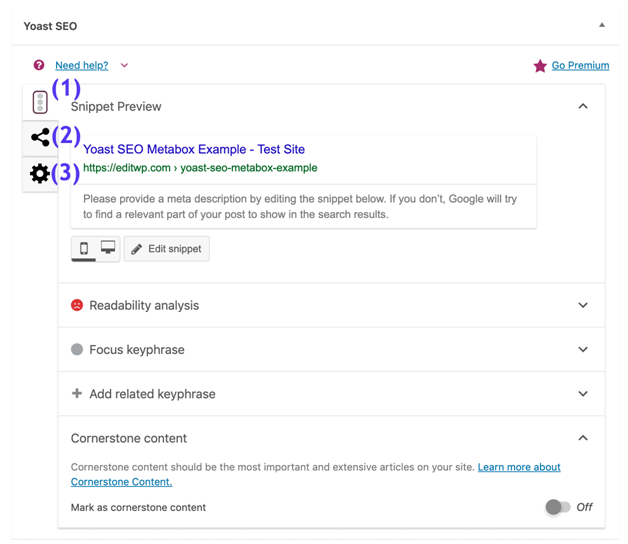 Lets you switch between Snippet Preview, Readability analysis, Focus keyphrase, and Cornerstone content.
Lets you access additional settings for social media.
Lets you access advanced options
Content Optimization Tab
content optimize tab is basically used to check how much your content is relevant according to the search engine. The first area is present in the content optimized tab is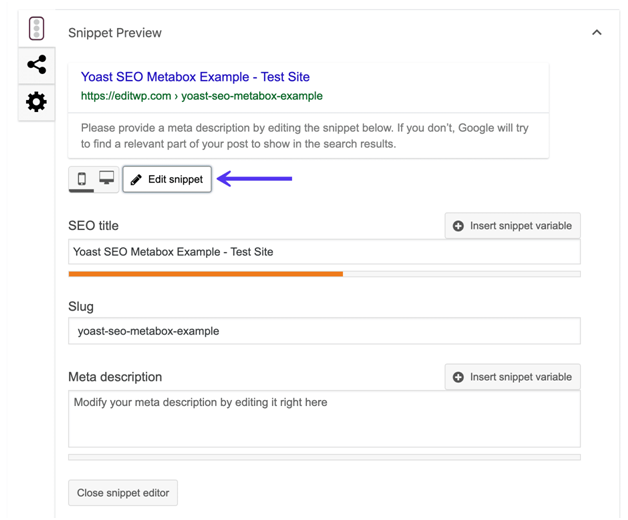 ● Snippet Preview
Music and edit the snippet preview option manually. This snippet preview option contains many sub context options.
● SEO title
● Slug
● Meta description
SEO title- It is basically used to enter the title of the article. This same title is going to display in the search results.
Slug- It contains the URL of the present blog or article which will display after the title in the search results.
Meta description- It is a small summary of the present article or a blog. For detailed information check out the image given below.

Readability analysis area
The readability analysis area applied a human concept that has been applied by the Yoast SEO plugin. Readability contains many options in it. For detailed information, the user can check out the image given below.
Flesch Reading Ease:- It delivers a copy score to us so it highlights all difficult content to read in the given article.
Not enough Content: – It shows that users need to write minimum word limit content to make ti gree in color from red color.
Transition words- In the above content or a paragraph user doesn't use transition words.
Passive voice – There will not more than 10% passive voice sentence is to be present in the content.
Consecutive sentence- all sentence are to be in a consecutive form so that complete article look sensible to read.
Subheading distribution:- proper use of subheading in a proper sequence.
Paragraph length- length of any paragraph is not more than 200 words.
Sentence length- All sentences should be of a proper length. The length of the sentence is not more enough or nor short. The sentence should be medium range.
Focus Keyphrase
It is a type of area where a target of focus keyword is to be set. This type of area is a term to be a focus keyphrase. Users need to enter the focus keyphrase three to four times in an article and it should also found in the meta description also.
Users must know that in the basic plan user can only single type of focus keyword/ keyphrase however in the premium plan user allowed to enter more than one type of focus keyphrase/keyword. There is also sub context option that has been under focus keyphrase. Complete information users can check out the image given below.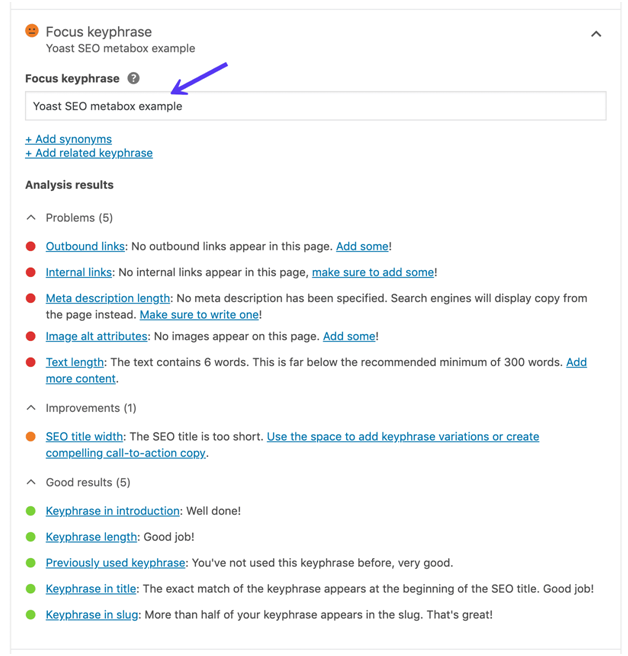 Outbound links- in this option users need to enter a URL address. These URLs will take users to another website.
Internal links- Users need to add the internal URL address of the same website to connect internal pages with the current post.
Meta description length- meta description length should be at least 160 words.
Image alt attribute- Users need to enter complete alt attributes while adding or uploading images to a particular post.
Text length- Users need to enter a minimum of 300 text words.
SEO title width- Users need to add a title with a medium word limit. Till then it converts from red to green.