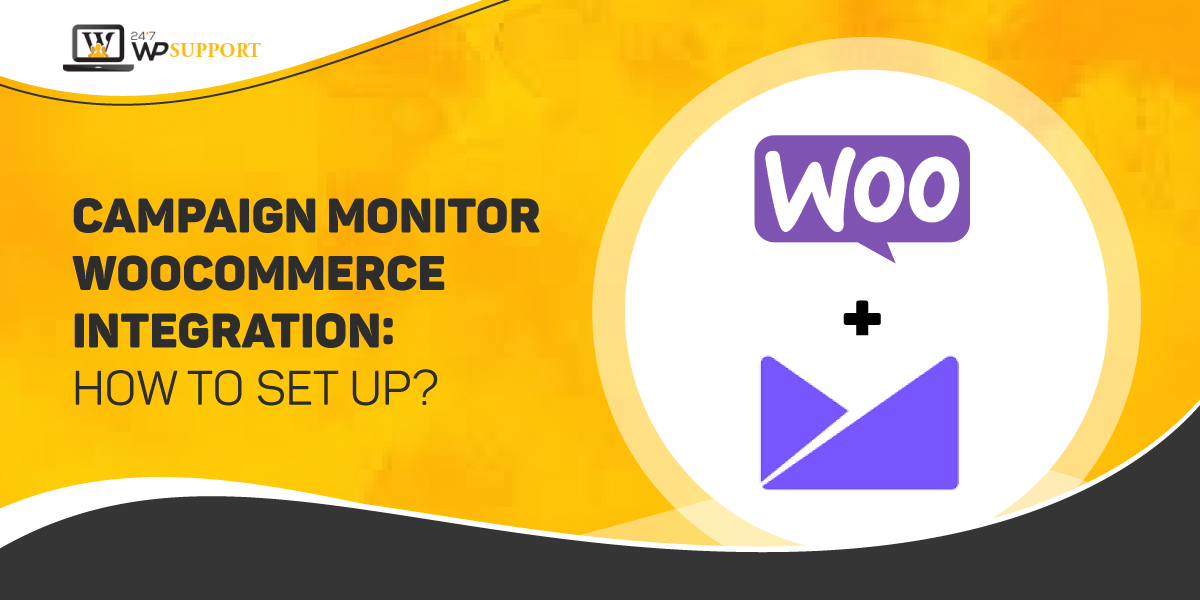 Campaign Monitor WooCommerce integration: How to set up?
Campaign Monitor can easily measure, create, and send a great impact on email marketing campaigns. This magnificent plugin assists you to import the customer data form from the WooCommerce store. It is then transferred to the Campaign Monitor lists. One can send personalized and beautifully designed emails to their clients.
Campaign Monitor WooCommerce integration offers great support to business owners. It helps one to offer a subscription plan to customers who purchase from the store. The data is escalated to the mailing list of Campaign Monitor. You easily start your business using pre-packed segments.
As a business owner, you can use the mailing list to set up automated workflows and send campaigns.
For instance, once you complete the Campaign Monitor WooCommerce integration you can set up the pre-built segments automatically. This will assist you to aim your email content on a more targeted and smaller group of subscribers.
You can replace the following emails through Campaign Monitor emails:-
Completed order
Order-on hold
Customer note
New account
Customer invoice
Processing order
Order failed
New order
Refunded Order
You have the authority to replace the emails.
Benefits of Campaign Monitor WooCommerce integration
1. Send the WooCommerce store data to Campaign Monitor automatically
For example, you did your Campaign Monitor WooCommerce integration. Now, the data will flow seamlessly from WooCommerce store data to the list of Campaign Monitor. Hence, you can send your targeted campaigns as soon as you integrate the two platforms.
2. Expand the list with the option of subscription at checkout
You can give the option of email subscriptions to your loyal clients. One can even carry on to engage their customers for a long time after they have placed their order.
3. Leverage the segments to engage larger or smaller targeted groups
Customers who spend high
You can keep the customers engaged who spend high on your store. In fact, you can give them exclusive offers and promotions.
Repeat customers
One can easily find and reward their loyal clients with exclusive email offers.
First-time customers
You can send welcome messages to each client in a more personalized way. Perhaps, you can even raise special discount offers on the specific client's second purchase.
Newsletter subscribers
You can quickly add your newsletter subscribers to the list.
Steps for Campaign Monitor WooCommerce integration
Log in to the WordPress website. Make sure it has installed WooCommerce.
Click "Plugins" and tap "Add New".
In the field, choose "Search Plugins" and choose the type "Campaign Monitor for WooCommerce".
On the Campaign Monitor for WooCommerce result tap "Install Now". Then hit "Activate".
Make sure to tap "Campaign Monitor for WooCommerce".
Hit "Connect". Make sure you put the instructions for Campaign Monitor WooCommerce integration.
Choose the list for which you want to create a connection.
Tap "Show subscription option at checkout". Enter the text so that it displays close to the subscription checkbox.
To add the people automatically click "Automatically subscribe customers to your newsletter" who purchase. You can even deselect the subscription plan when the customer places an order.
Campaign monitor WooCommerce integration is complete!!
In conclusion!!
If you are facing any trouble connecting Campaign Monitor with WooCommerce, you can hire 24×7 WP Support. We are the leading WordPress design, development, and maintenance company with a stronghold all across the globe. We have served more than 11251+ clients and fixed more than 112007 issues.
Why wait? Our tech nerds are happy to help you!!