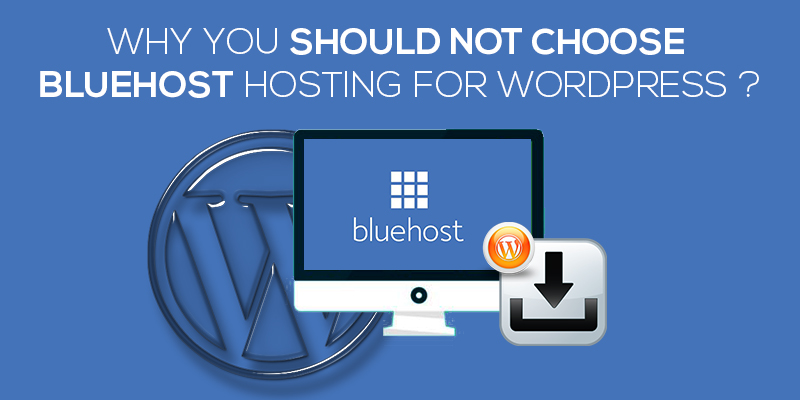 Why You Should Not Choose Bluehost Hosting For WordPress
Last updated on January 1st, 2020 at 06:29 am
WordPress is admittedly one of the preeminent tools for website building that everyone can choose without having any apprehensions. With the open-source facility, it offers thousands of high-end website building tools and themes at your disposal. However, you can't complete your WordPress website building with reliable and trustworthy web hosting.
Bluehost is one of the leading WordPress web hosting service providers that profess to offer comprehensive and high-end WordPress web hosting for businesses of all sorts. However, these claims don't sound impressive to us as we have found out various loopholes in its operations. With hefty price tags, it's not something that everyone can pick randomly.
Here are the reasons we don't prescribe you using Bluehost hosting for WordPress.
There is no automatic & free data security/back-up
If you are building a website, you would like to have a secure and comprehensive backup facility to safeguard every single detail. With Bluehost, you are not getting an automatic backup facility. Backup is one of the most indispensable facilities that every service provider should over to ensure end-user data safety. Here, you need to do set-up your own backup process using the cPanel. Also, the back-up will be done at your local device.
Then there is data overwritten to increase your agony. Any data backup within the last 30 days will be overwritten automatically. In that case, you may lose some of the crucial data and no one but you will be held responsible for this. If you want streamlined and automated backup facility then you need to avail Site Backup Pro paid add-on in your plan. As it's a premium feature, no ever one can afford it with a hefty price tag. That simply means if you are a start-up or small business having limited investments to back you, you have to put your data at risk while using the Bluehost.
Strict and not user-friendly storage rules
Their 'unlimited' storage claims come with a limitation. If, as a user, you save anything over 1,000 database tables or 3GB total database then your account will be auto suspended/deleted. No one wants this. So, either you avail its high-end packages to keep an eye on your storage limit to avoid losing all data.
Slow operation
When compared to other leading WordPress hosting options, Bluehost is a turtle. The slow speed is one of the key reasons why we don't recommend you Bluehost. With claimed 1,400ms average page load time, it's performance is very slow then this. Around three-quarters, internet users browsing on a WordPress website build with Bluehost will bounce from a page within 20 seconds which is very annoying.
As per the recent study was done by Kissmetrics, 47% of customers believe that website having 2 seconds load time is what they prefer and consider as best. With such poor (20 seconds) load time, your website will fail big time to fetch the desired results and will hamper your business.
Pocket-heavy site migration and renewal
If you already own a website and want migration, be ready to pay a $150 transfer fee. Also, you are likely to migrate only 5 sites and 20 email accounts in total after paying such a high amount as well. This way we can easily conclude that Bluehost is not at all site migration friendly.
Alongside, if you are looking for pocket-friendly plan renewal or upgrades then also you'll be disappointed as their high-end packages are 90% higher than of the base plan which is a complete rip-off.
No hosting for Windows
It's a good option only if you are doing Linux-based WordPress hosting. They don't offer a Windows-based hosting facility. So, if you are big-time Windows users then you will be highly disappointed with Bluehost.
Poor customer support
Though they have a live chat and phone line customer support, you'll have to wait for ages to get through. The response time is very poor and limited.
Bluehost is not at all the best pick if:
You are a small business and have limited capital to support you. All are its plans are pricy and comes with further paid add-ons.
Your targeted audiences are outside the US. They have considerable good load time on US servers. However, if your main traffic is coming outside the US then Bluehost is definitely not something which you should bank upon. Outside US servers, it tends to have poor load time and customer engagement.
Your business depends directly on the traffic generated from the website. If you are a blogger or run an e-commerce business then Bluehost will not be able to generate organic traffic for you.
You are not looking for advanced features like tagging areas or Git repositories.
You are a novice in website building and require dedicated customer support at each stage. Bluehost lacks big time when it comes to offering around-the-clock customer support.
You are looking for DNS server flexibility. With Bluehost, you're going to get only one set of DNS servers.
You are running an auto-script or auto-blogging website as such a website is likely to reach the storage limit early and quickly that may lead to the deletion of your account.
You can consider Bluehost if:
You are running a small business and want to have a website used just for identity purposes.
You are not dependent upon the traffic generated from the website.
The Final word
Bluehost is not something that something you can't pick blindly just because its price is lesser than others, because it offers limited assistance in certain areas. It can be a good option if you are handling a single website and targeting US audiences. Pay attention to your requirements and their offering before taking the final decision.