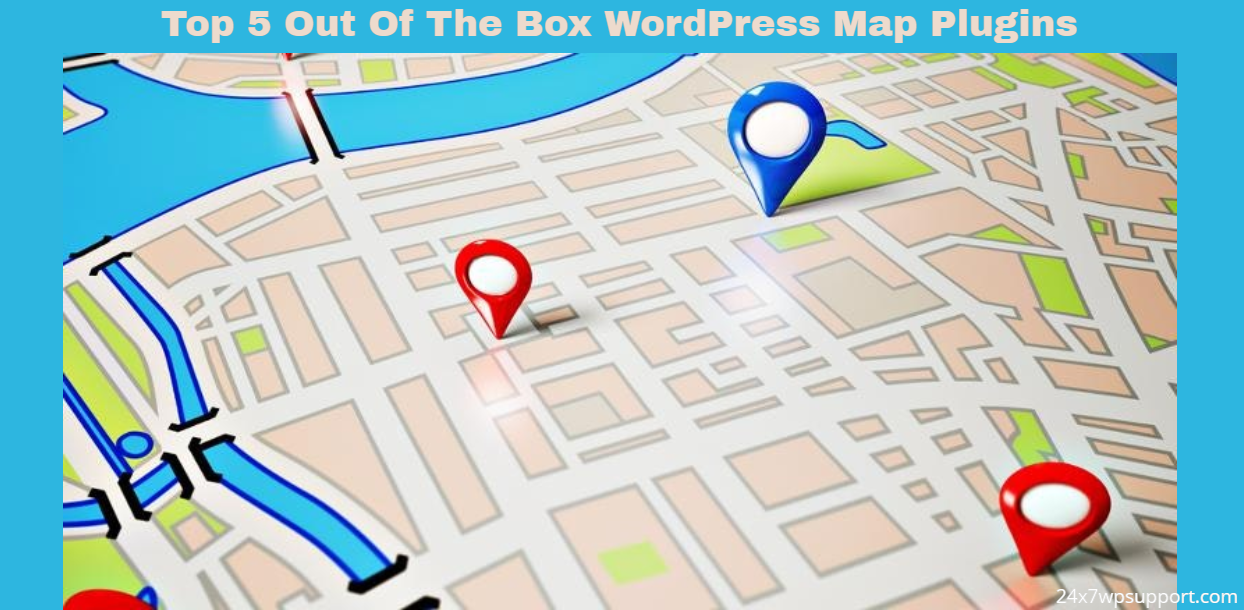 Top 5 WordPress Map Plugins
Last updated on September 18th, 2023 at 06:16 am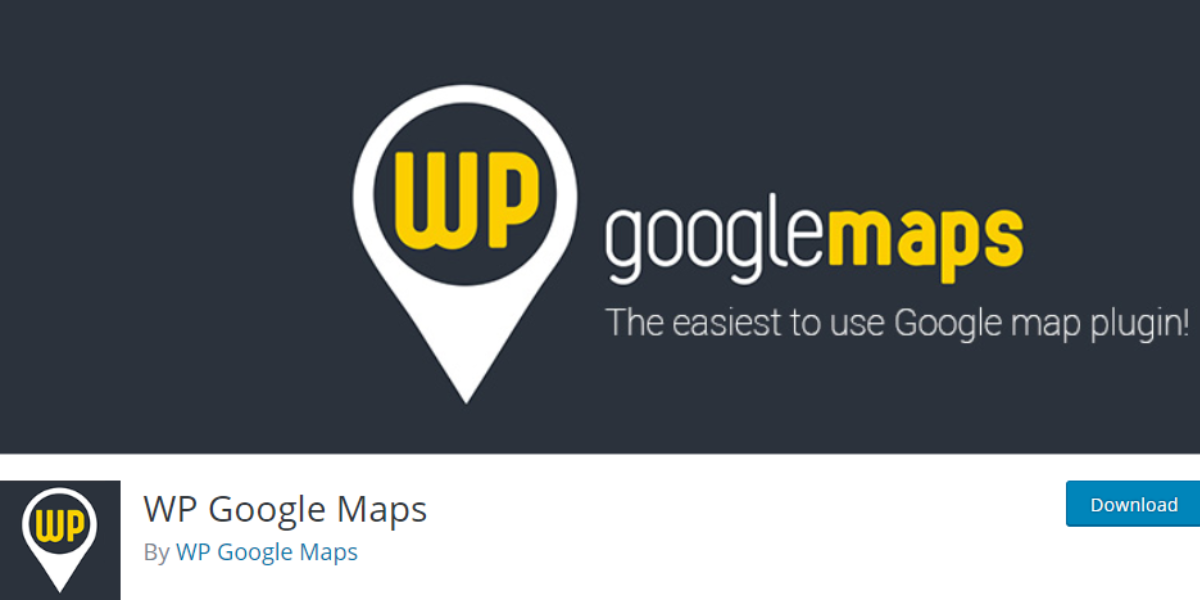 Description
It is the simplest to use Google maps plugin that allows the addition of a modified Google map to both your WordPress pages and posts easily and hastily using an already supplied shortcode. Furthermore, there is no iFrames, no fuss as well as being extremely easy to use thereby making it perfect for maps displaying delivery areas, routes, contact page maps as well as any other use you need.
Despite the free version of the WP Google Maps permitting you to create Google maps with lots of markers as you wish, the Pro Version lets you achieve even much more.
Usually, the WP Google Maps Pro Version enables you to make custom Google maps that contains high-quality markers comprising descriptions, locations, links, categories, images, and directions.
Lite Version (Free) Features
It includes a full-screen map, store locator and map widget functionality as well as support for localization.
Allows you to select from four Google maps varieties, that is, terrain, roadmap, hybrid, and satellite.
It contains nine popular map themes for you to choose depending on which suits your style.
Included in this WordPress plugin is the newest OpenLayers API and Google Maps API.
This WordPress Map plugin allows you to produce various map markers as you wish and that is necessary is typing in the address.
It enables you to add or create your map theme, and the maps are very responsive.
Supports Google Maps Streetview and UTF-8 character.
With this WordPress plugin, you can define your preferred height, width, plus zoom level for all your maps
Professional Edition Features
It allows you to list your map markers in four different ways, that is, basic table, basic list, advanced table, and carousel.
This WordPress plugin comprises numerous map widget functionality, is WordPress Network friendly and allows the addition of retina-ready map marker icons.
Enables you to add links, descriptions, and images to all your map markers, add categories to your map markers and filter the markers depending on type.
You can easily import or export your markers to a CSV file to carry out a quick edit.
With this WordPress Maps plugin, you can import KMZ/KML files to your map.
It comes with more advanced options for the Store Locator.
It is translation ready to numerous languages with English being the default language.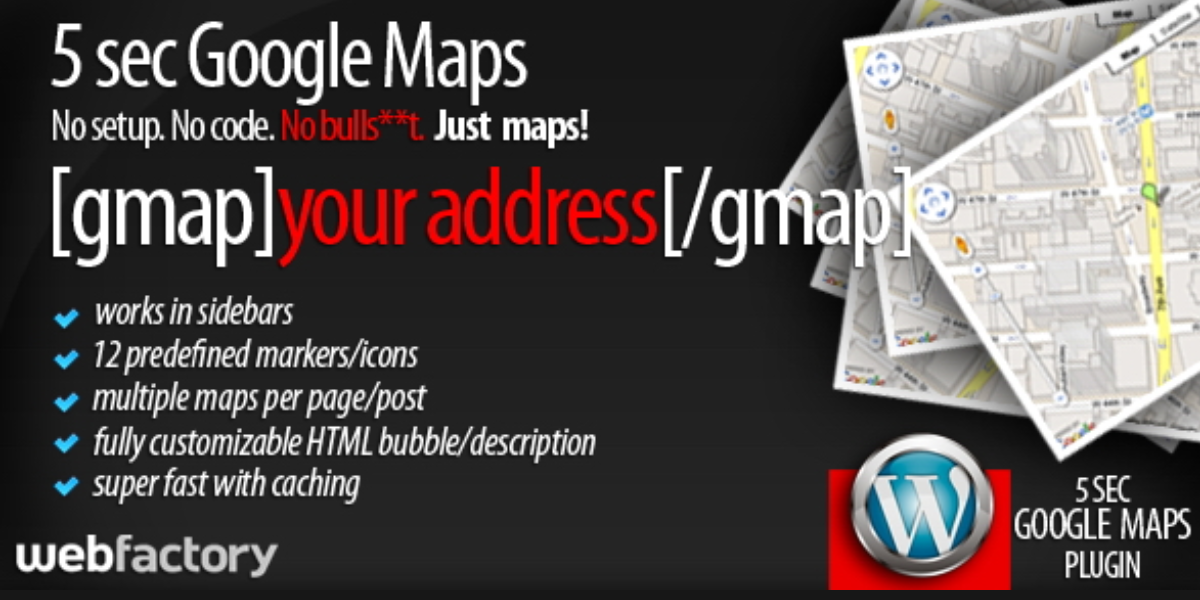 Features
Included in this WordPress plugin is extensive documentation and examples.
It has an entirely customizable HTML description or bubble.
Allows both directions to address and full-screen support.
It comes bearing 12 predefined icons or markers.
It requires no setup, as well as no code editing.
Out of the box, this WordPress Maps plugin works in pages, posts, sidebars and custom post types.
This WordPress plugin has a default shortcode that is [gmap] that can readily be changed.
It supports multiple maps per page or post.
Makes use of local cache for Geocoding, (address to lat/lng mapping) for maximum speed.
It works on WordPress versions 2.8 as well as the fresher ones which require cURL PHP extension.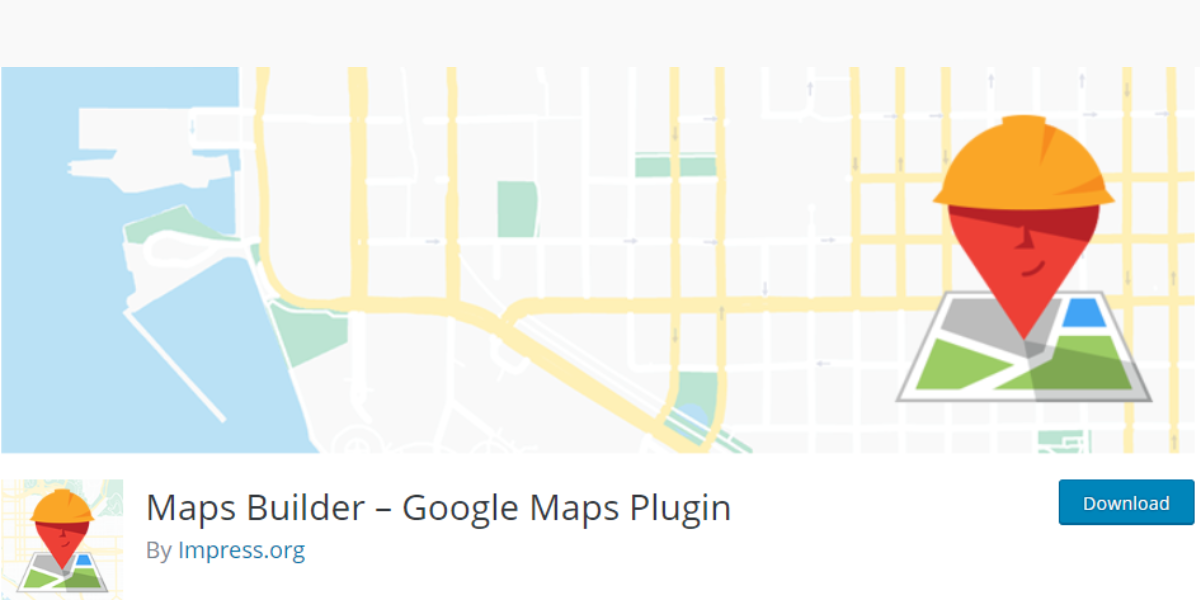 Description
Maps Builder is not a typical Google Maps plugin because it has been built from the ground up to be the quickest, easiest, as well as the most intuitive Google Maps plugin for WordPress. Moreover, this visually builds robust and modified Google Maps enable you to make use of your WordPress website easily and swiftly without necessarily needing to touch a bit of code.
Features
All the styles and scripts in this WordPress plugin are packaged and optimized with Grunt.
It comes with an intuitive UI which effortlessly integrates with WordPress; therefore, you do not have to worry about old interfaces or eyes sores with this WordPress Maps plugin.
This WordPress plugin was developed in debug mode, thus resulting in high-quality plugins with no warnings, errors or notices.
Additionally, GMB does not produce any new database tables, not even a single one.
It incorporates Google Places API integration thus shows nearby business locations as well as points of interest complete with custom marker icons and ratings.
Coming with a full-screen live map builder, this Map Builder allows you to edit full screen in a Customizer-like surrounding; therefore, you get to see your map coming to life right in front of you.
It is the only WordPress plugin which comes with unique Market Icons integration that is markers colors and set icon for really exceptional markers.
With the Snazzy Maps Integration, you can create genuinely unique Google Map themes which appear excellent with any design which is powered by Snazzy Maps.
With the Post Mashup feature, this WordPress plugin allows you to automatically populate the markers on the map depending on your pages, posts or custom post types.
Incorporates different layers, that is, Transit, Show Bicycle, and Traffic layers all with a single click on any map.
Allows you to export or import both your markers and maps anywhere you wish.
Additionally, you can upload your personalized custom marker for any marker present on your map.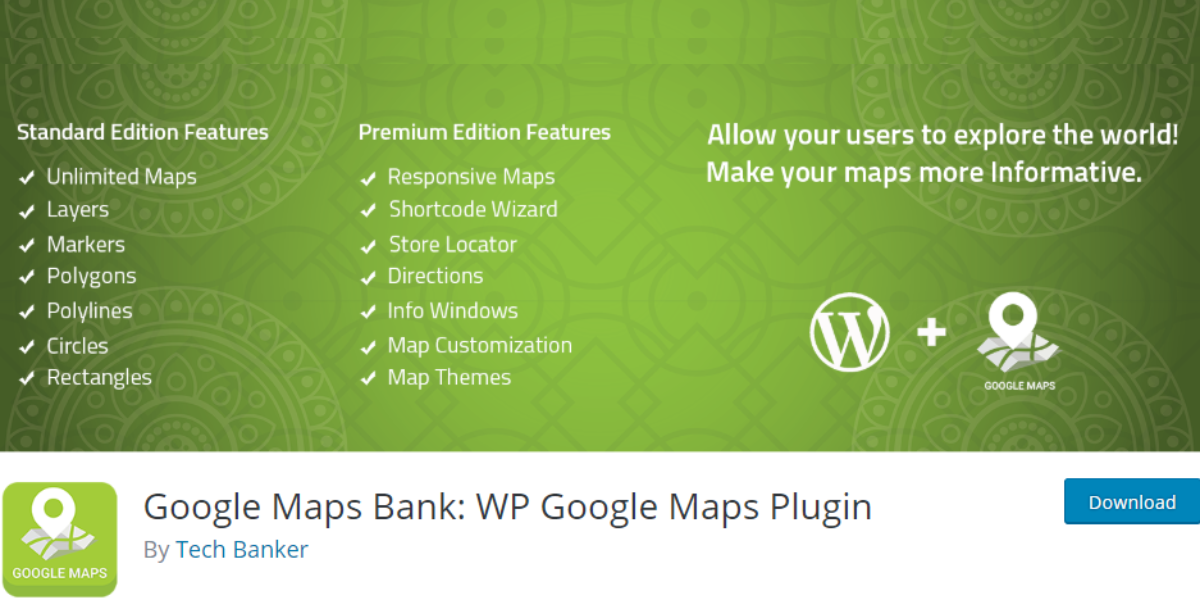 It is the most useful WordPress plugin to display attractive and interactive maps, with this plugin being the most advanced plugin ever to be created. Additionally, its development was done while including the prized feedback from many of its users.
The WP Google Maps Bank is the most powerful and straightforward WordPress Maps plugin ever to be created, and it comprises; Back End Demos, Front End Demos, Google Maps Bank, Documentation, Detailed Features and Upgrade to Premium Editions.
Features
Setting up this WordPress plugin is simple since it shows tooltips in the settings and whole admin area thereby making it easy to adjust settings to modify maps according to your preference. Moreover, you can customize fonts, colors, look, layout, animation and much more.
Allows the addition of multiple maps as you wish in your site plus modify every map using different settings. Also, you can include numerous shortcodes on a single page to show as many maps as you desire.
It is very responsive with its optimization meant to make it function correctly on every gadget, irrespective of what device you currently are using. Usually, it is because the maps will scale beautifully on every device.
The creation of a WordPress Maps plugin only requires you to input a shortcode into your page, post, taxonomy description or text widget. Additionally, you can effortlessly input a map into any page or pots by making use of the shortcode wizard.
Enables the creation of infinite locations and show maps on any post or page using a user-friendly shortcode.
It includes a store locator option which allows users to search markers depending on the radius, address, and marker category. Additionally, you can produce an interactive map for your site which displays the location of all your store to your clients.
Includes different travel modes and will subsequently provide you with direction depending on the selected option. Users can view their traveling courses for locations on the map, and this is dependent on the mode of transport they are using.
Provides you with complete control of the control tools like scale, zoom, fullscreen, street view control, and rotate control. Also, these controls are offered to increase user interaction when using the maps, since it lets the user choose Map Types such as Roadmap, Terrain, Hybrid, and Satellite.
It offers users with direction services using which they get to know the direction of the different locations they want, select an endpoint and detailed instructions will be availed.
Presence of widgets permits your Maps to be shown in your sidebar, page or footer and anywhere else you need it to display. Therefore, using the widget, you can show the Maps on the Footer, Sidebar or anywhere on your blog.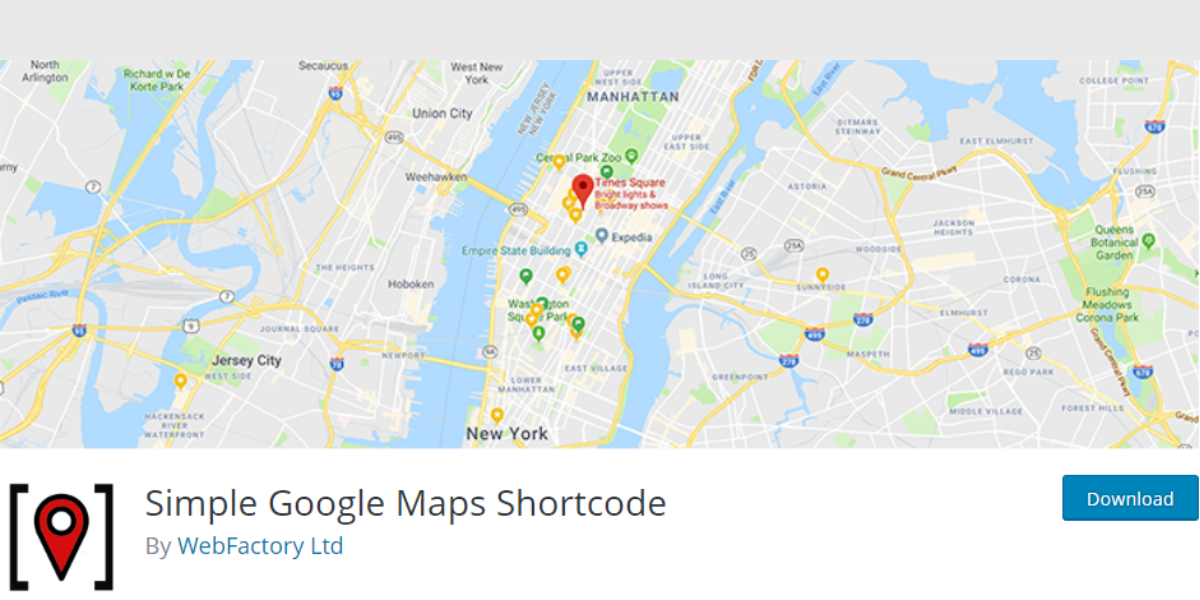 Description
It is a WordPress plugin which enables a simple shortcode which you can make use for inserting Google Maps in any WordPress page or post. Furthermore, this shortcode makes use of the Transients API and WordPress HTTPS API for the delivery of cached Google maps with minimal to no effect on your website's performance.
Lastly, maps are showed with the [pw_map] shortcode
This is a WordPress plugin that is used to embed Google Maps or any kind of map within any WordPress website. This plugin is available in free and premium versions also. It is not a simple Google map but it is more than that, however, the highlighter is the best part of this plugin which attract all user using this WordPress plugin. It also. Hello, many things apart from Google maps such as all vector maps, image maps, map-based statistics, and many more things.
It also helps to convert any PNG / JPG image into 2 highly interactive maps. Users can also create database detail of any object according to their custom field. It also contains a unique feature that is a customizable interactive element that helps to create amazing Google maps. as we already told about this plugin it is available in the free version as well as a premium version for buying the premium version you should pay a certain amount per month.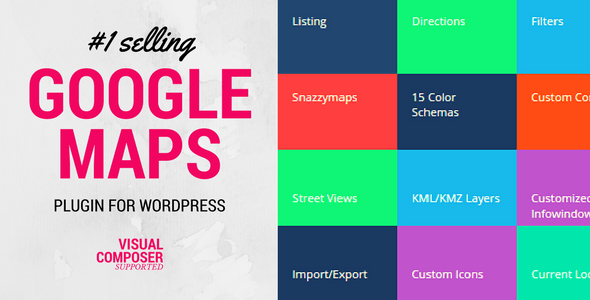 This is again a WordPress plugin that helps to embed any kind of map into any WordPress website. This plugin is best selling WordPress Google map plugin. This plugin is designed after getting through 200 user reviews all over the world. The reason for downloading this plugin provides a user-friendly interface within a short time of period. The key feature of the advanced Google maps plugin is it always show an option to display post or pages on the map easily.
It also provides a CSV file to import any location. Through Google, an advanced map plugin users can easily customize all types of windows. The advanced Google map plugin is adjusted according to their screen size this is the best feature of this plugin. There is no free version is available. If a user wants to use this plugin then the user must pay a certain amount per month.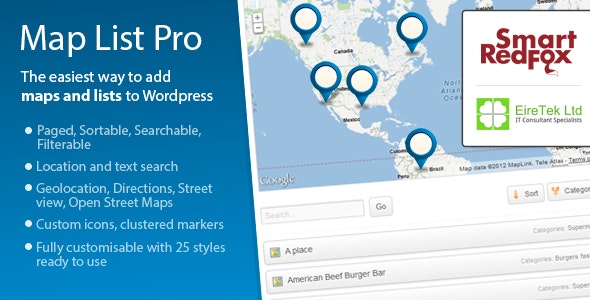 This is again an awesome WordPress plugin which helps to embed maps into any website supported by WordPress.there is no free version available in this plugin it is a premium plugin which is fully loaded of all advanced and powerful features. It helps to display your location on your side in the short table, searchable and customisable way.  
Through this plugin, user can add customised icon and markers easily. There is an auto-zoom feature through this feature this plugin is separated to all map embedded plugins. This plugin can be used while driving which helps to give you a direction option in it. It also contains custom map style which can be added customised by the user. It also provides and options to add featured images for locations. If a user wants to use this plugin then the user must pay a certain amount it per month.
Which Map Plugin Do You Like?
Need help in Plugin Selection or Plugin Issue? We are available 24/7 by Phone or Chat.