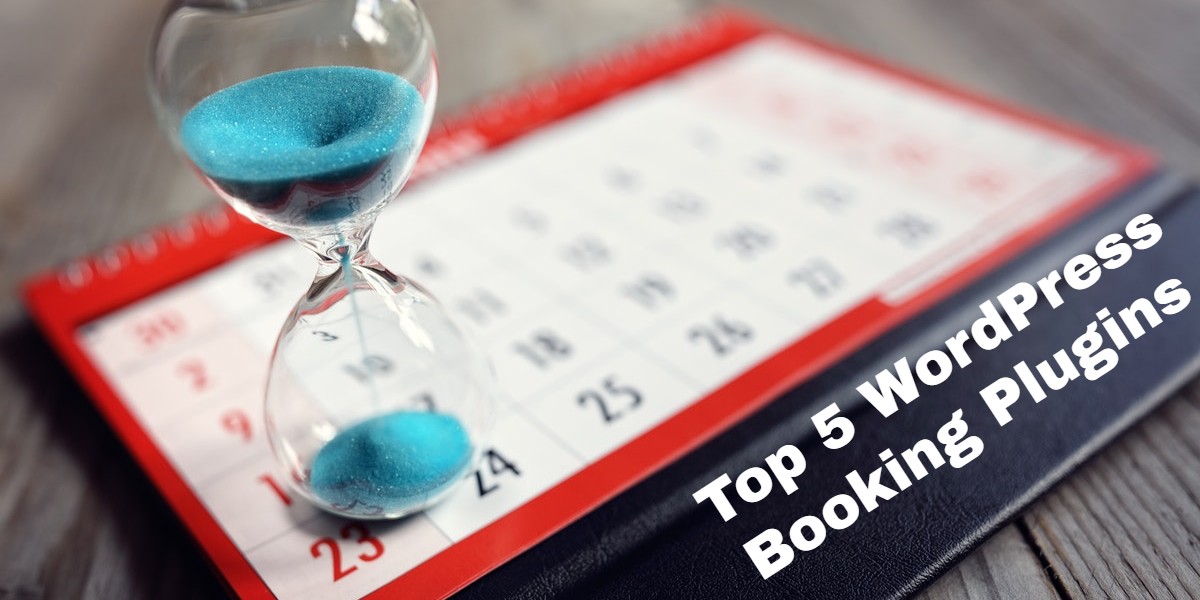 Top 5 WordPress Booking Plugins
Last updated on September 8th, 2023 at 05:39 am
WordPress booking plugins can be extremely essential for WordPress powered businesses whose customers need to book or schedule appointments. Examples of such businesses include healthcare facilities, various consultancies like(immigration, legal, & image), third party recruiting agencies, etc.
If you run a WordPress powered business that falls into any of these categories where booking or scheduling appointments is the order of the day, consider investing in a good booking plugin.
Of course, there are many WordPress booking plugin choices out there yet not all are rated the same. Knowing the best software to go for therefore makes lots of sense in this situation. In that regard, here the top 5 best WordPress plugins for booking or scheduling appointments: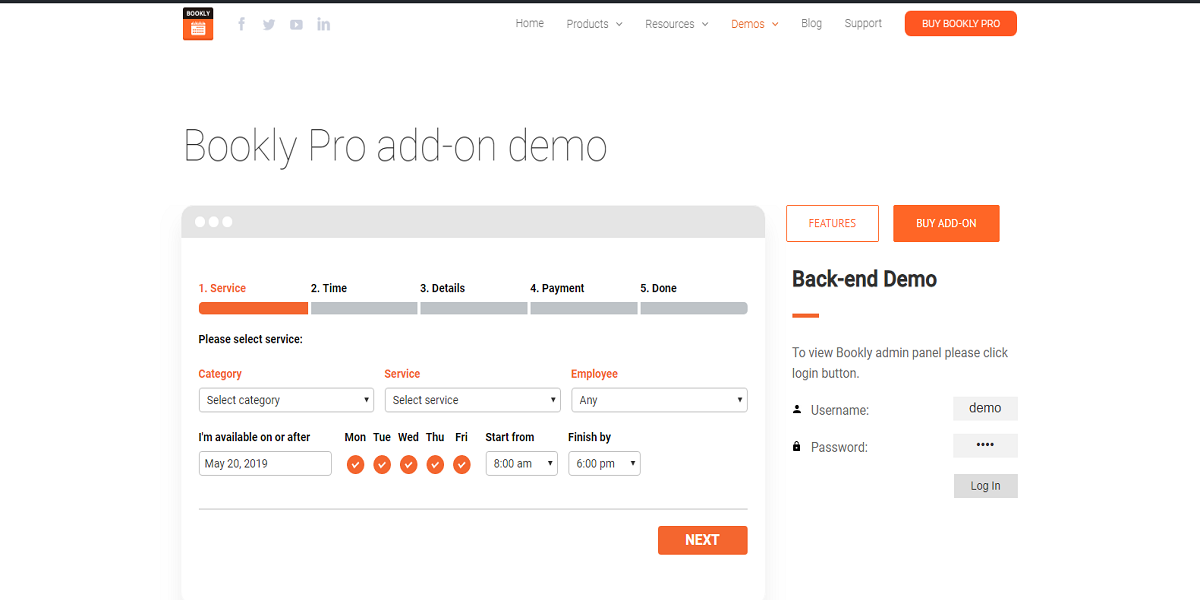 Bookly Pro is an incredible WordPress plugin for appointment booking and scheduling purposes. This highly customizable CMS booking plugin is praised for seamless mobile integration, enabling clients to book on the go.
With it on your WordPress website or blog, your clients will be able to schedule or book an appointment with you wherever they are and whenever they want. In addition, the plugin features a user-friendly admin panel for simple setup.
Other key features include a booking form that can be fully customized, a booking list that can be filtered, sorted, printed or exported to CSV and multipleservices that can be grouped into various categories with a set of unique colors for easier viewing in Bookly Calendar.
You can also create a customer base with unlimited clients' list, displaying payments statistics and internal notes about each client. Plus, the list is both importable and exportable. Excellent customer support is another key reason to choose the Brookly Pro plugin.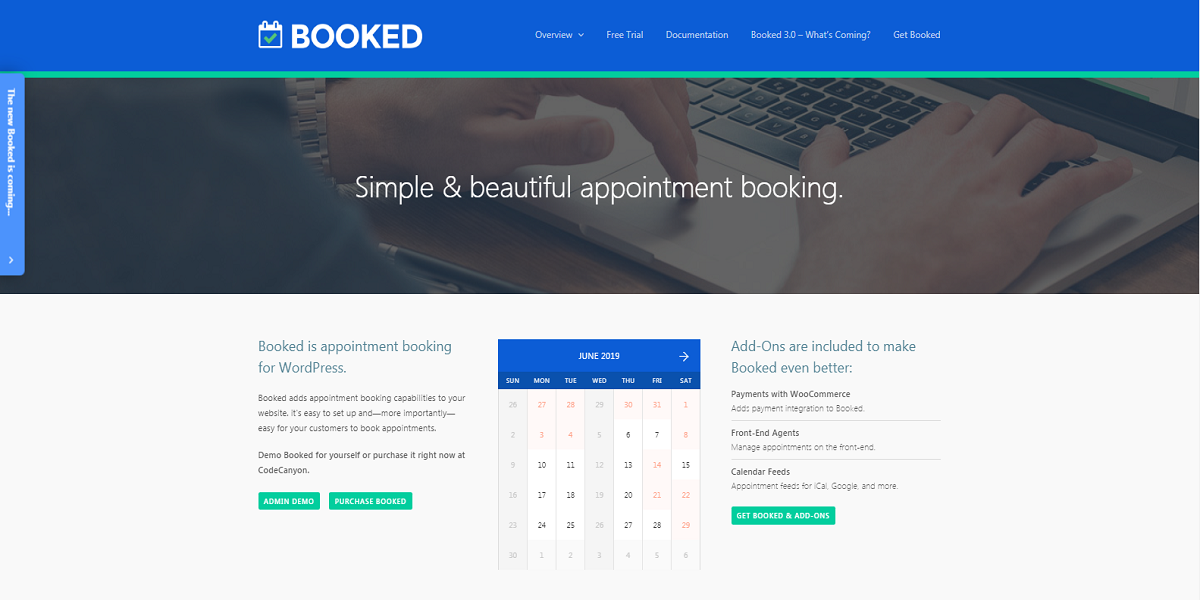 Booked is a well-known WordPress multi-booking plugin that does a great job when it comes to appointment or schedule bookings by the client. This to-rated software is packed with lots of features, including a multi booking and scheduling system, instant email notifications, and modern reporting system. Besides these, it features the Google calendar system, a 100% customizable admin panel, and a wide variety of customizable themes. Finally, Booked is easy to use and designed with all languages and browsers in mind.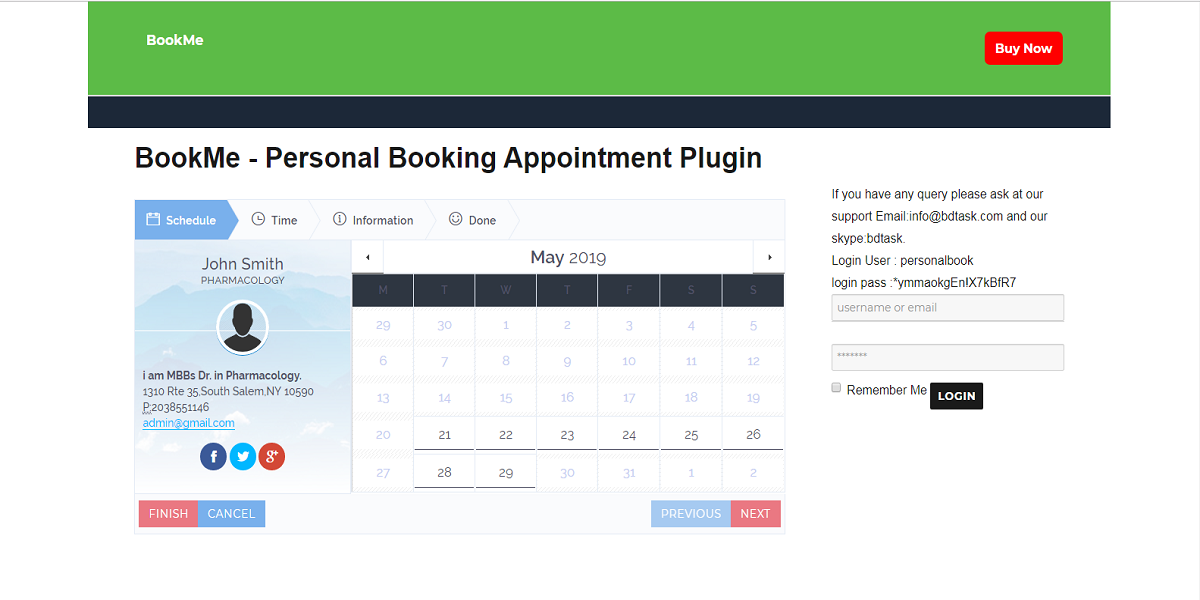 With an entire range of features, BookMe is, without a doubt, one of the best booking plugins for WordPress powered sites or blogs. This software features registered & guest bookings, custom fields & time slots, client login profiles, calendar view or list view, and customizable email content.
In addition, it allows you to create multiple calendars and assign them to agents. Plus, this incredible CMS plugin which comes with lifetime updates supports WooCommerce payments so that your customers can book or schedule an appointment and pay safely as well as easily. Last but not least, it comes with unlimited calendar feeds and up to six months of support.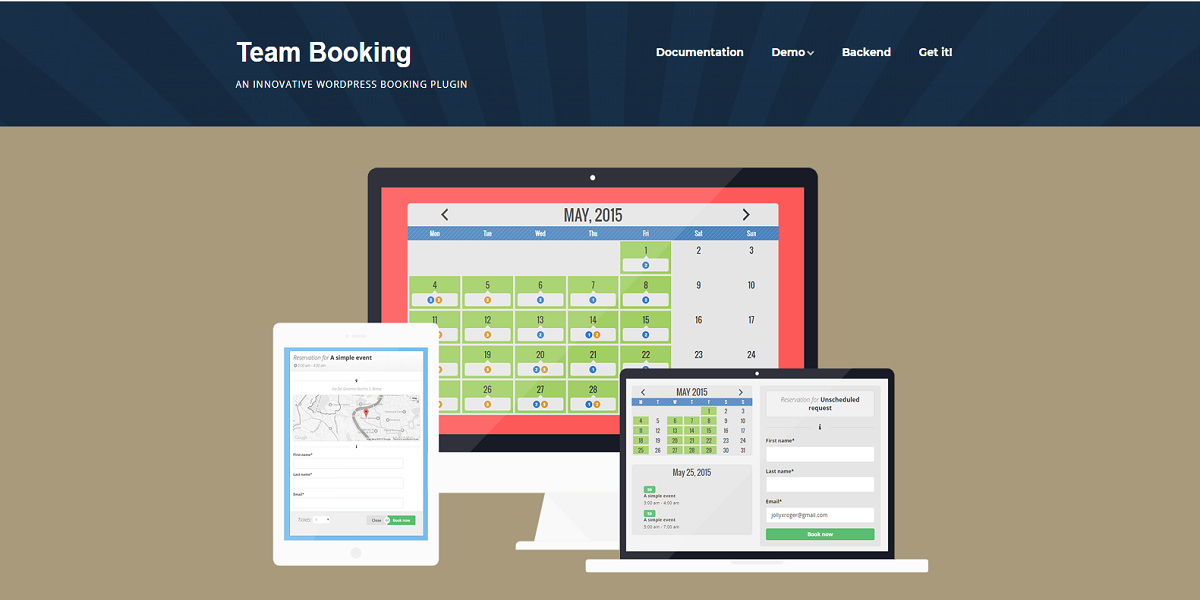 Team Booking is another top WordPress plugin for appointment booking or scheduling. This CMS booking plugin features Google Calendar integration, timezone conversion, data exportation, and a reservation form builder. Plus, it supports PayPal and Stripe payment options.
Multiple language translation is also an important component of Team Booking. Finally, this amazing booking plugin comes with a complete notification e-mail system, ensuring you are aware of everything that is happening in your inbox. This is an impressively collaborative, highly customizable, and incredibly easy-to-use booking and scheduling plugin.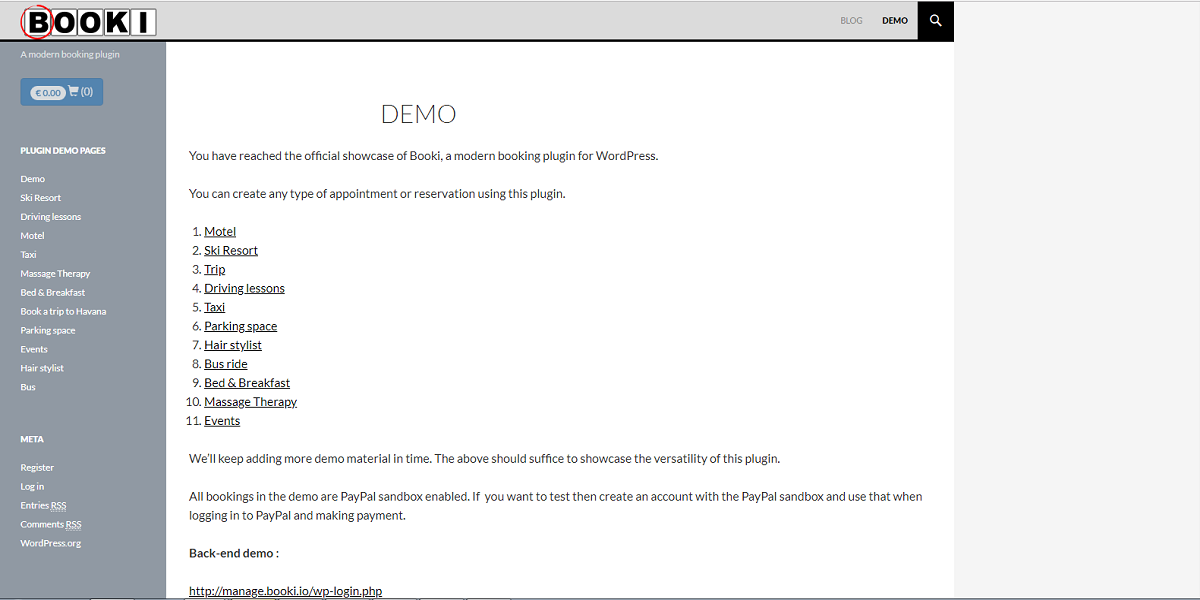 Booki is a 4.5 stars-rated WordPress booking plugin. This feature-packed software for reservations and appointments can handle unlimited booking projects simultaneously. It enables you to create bookings in quick and easy steps, as well as enables online payments and offline payments too.
With Booki, your customers will be able to make bookings or cancel them as they wish. Plus, this plugin comes with unlimited email templates, unlimited Google Calendar profiles, and customizable appointment reminders.
As if that were not enough, Booki lets you set minimum notice and prevent customers from booking too soon, to give you time to make the necessary preparations and arrangements. This is an important feature not so many WordPress booking plugins in its category offer.

StartBooking is a WordPress plugin that is used for making an appointment. With the help of this plugin, it is very easy to allow the user to set up booking an appointment form inside the website. Users can customize this purpose login according to their needs. It is fully customized.
This WordPress plugin contains working days and hours through which available time slots are also present. Users can also embed these booking and appointment forms into the website page and post. all types of booking appointment forms can be embedded with the help of shortcuts.
This plugin also provides a login window through which the user can see all appointments and booking events from the dashboard itself. With the help of this plugin, Google calendar is also enabled to help users to see the booking on all devices. So, integrating Google calendar it enables smart booking technology in it. The online payment option is also present in this plugin.
This plugin is highly secure which provides relief for both and customer as well as the business owner. This plugin is not available for the basic of the free version. If anyone wants to use this plugin with a complete feature then the user must pay a certain amount of money and buy an active licence. For trial version use and can use this plugin free for 14 days only.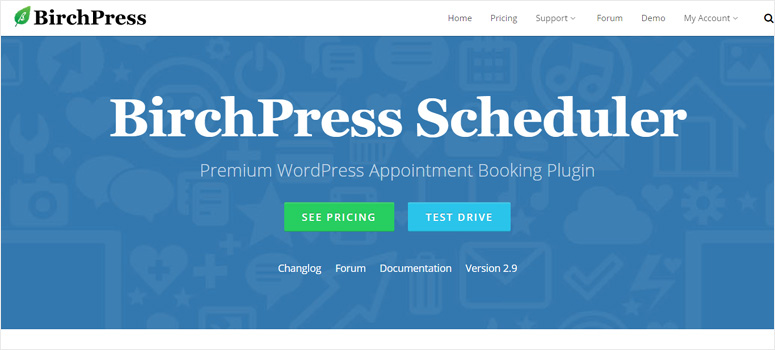 BrichPress is a WordPress plugin that is used for adding a professional online booking management system. Its updated version is 2.9 which can easily embed in any WordPress website. This application also contains a payment option so that any customer can book online appointments and it also supports payment options such as Paypal or credit card.
This WordPress plugin also syncs with Google calendar in it. Not only Google calendar but it also supports iCal, Android, Outlook, etc. The extra feature in this WordPress plugin is it also supports customisable email embedded. Which help to send notification and also send reminders. It also provides a customisable booking form.
This WordPress plugin is built by a wonderful developer mind it contains thousands of functions and action hooks. the most use of this WordPress plugin is in health and wellness, education healthcare, fitness and recreation, professional services, salon beauty, etc. this is not available for the basic version only the premium version is there. If any user wants to use its complete feature then the user must pay a certain amount of money to avail its active license after that user can use its complete feature.
Conclusion
Bookly Pro, Multi Scheduler, Booked, Team Booking and Booki are the top 5 best WordPress plugins for booking. While there are plenty of other booking plugins out there, none of them rivals these five in terms of performance. Therefore, when you go shopping, do not be fooled by anything else outside of this list, which has been put together by the experts.
So, which CMS booking plugin do you intend to buy among the five? Is it Bookly Pro, Booked, Multi Scheduler or Team Booking? Or is it Booki? And why is that so? Feel free to engage with us below.
Which Booking Plugins Do You Like?
Need help in Plugin Selection or Plugin Issue? We are available 24/7 by Phone or Chat.