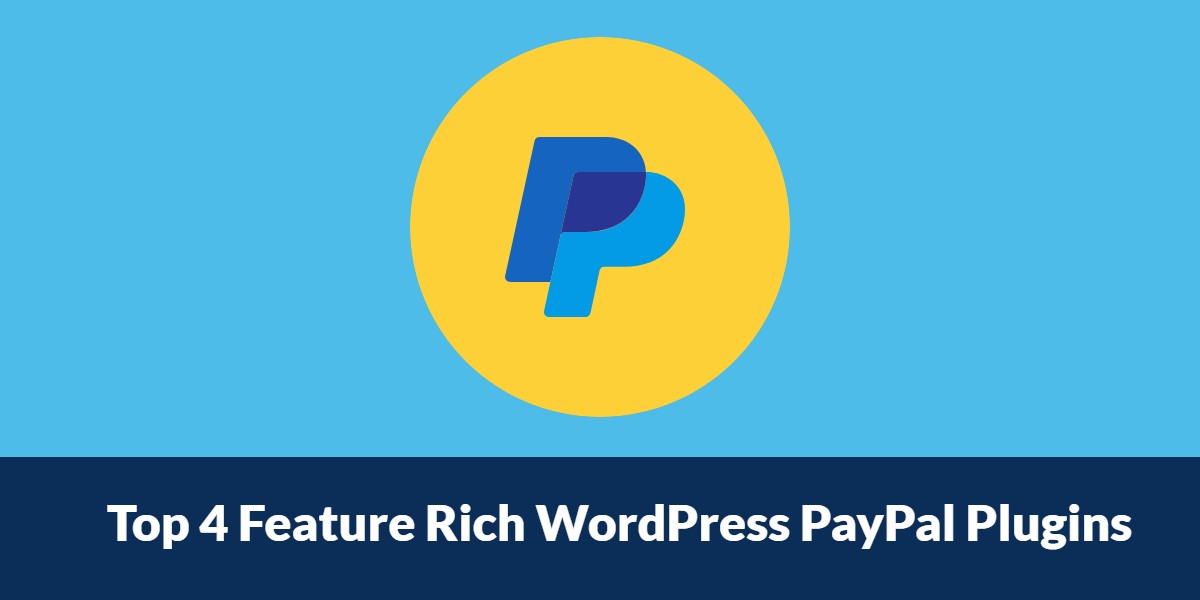 Top 4 Feature Rich WordPress PayPal Plugins in 2022
Last updated on August 12th, 2022 at 04:45 am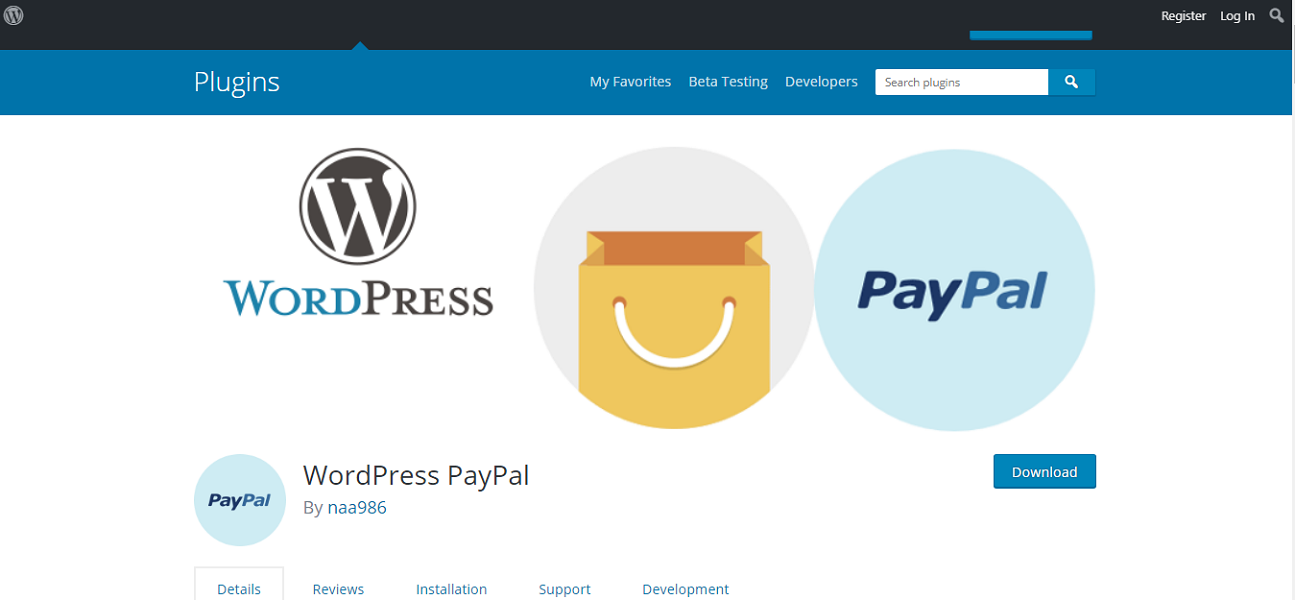 Using WordPress PayPal plugin, you can effortlessly create PayPal Buy Now, Donation, Add to Cart or Subscription kind buttons since it generates dynamic buttons by making use of shortcodes which permit PayPal to check out on your WordPress website.
Furthermore, your customers can now pay for your goods by either using a Credit Card or PayPal; therefore, this plugin assists you significantly as you are setting up your online e-commerce store. You no longer must spend days configuring settings and products since all that is necessary is inserting a shortcode into any of your web pages and your site will be ready to go live.
Usually, this WordPress PayPal plugin supports PayPal Sandbox which is a simulation environment that permits you to carry out test purchases between a test seller and buyer account. Consequently, your store processes all PayPal transactions without any glitch while also assisting you to get prepared before selling to real clients.
Requirements
A self-hosted site that runs on WordPress hosting
A PayPal account
Features
Enables users to add numerous items to their shopping cart before checkout
It accepts donations from its users and recurring payments.
Lets you sell both services and products via PayPal.
It is compatible with all WordPress theme and the newest version of WordPress.
Usually accepts subscriptions either on a daily, weekly, monthly or annually basis.
You can produce PayPal buttons on the fly in a page or post by making use of shortcodes.
Manage or view received orders through PayPal buttons directly from your WordPress admin dashboard.
Allows you to sell any currency which PayPal supports as well as recurring subscriptions or payments.
Charges tax and shipping cost on your services or products and discount or coupon functionality.
Permits debug to troubleshoot numerous issues such as not getting your orders updated.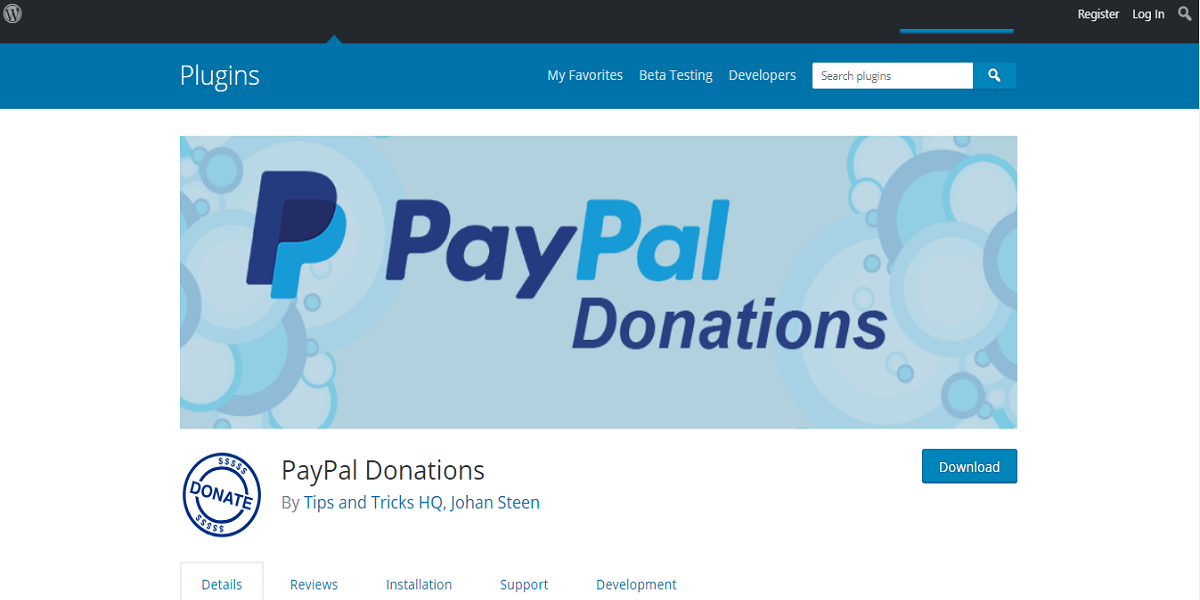 Typically, it adds a PayPal donation sidebar and shortcode Widget to the WordPress PayPal plugin with the options menu permitting you to set up your PayPal ID along with other non-compulsory settings. Moreover, you can decide whether you want your button or another donation button you find preferable and also setting a voluntary reference and purpose that can be overridden every instance a shortcode option is added or in the Widget settings. Other options available include the localization of the button, currency, the return page, and custom payment page style.
Widget
In the Appearance -> Widgets is the PayPal Donations widget, and after the addition of it to your sidebar, you can then enter the Widget's title. Additionally, other descriptive text appears above the button and specifying its optional references and purposes for the donation button to override its default settings.
Translation
This plugin is translation ready hence has the following language already available; Hebrew, Dutch, Albanian, French, Danish, Italian, German, Lithuanian, Turkish, Spanish, Romanian, Swedish, Russian, Norwegian Bokmal, and Malay – Bahasa Melayu (ms_ MY).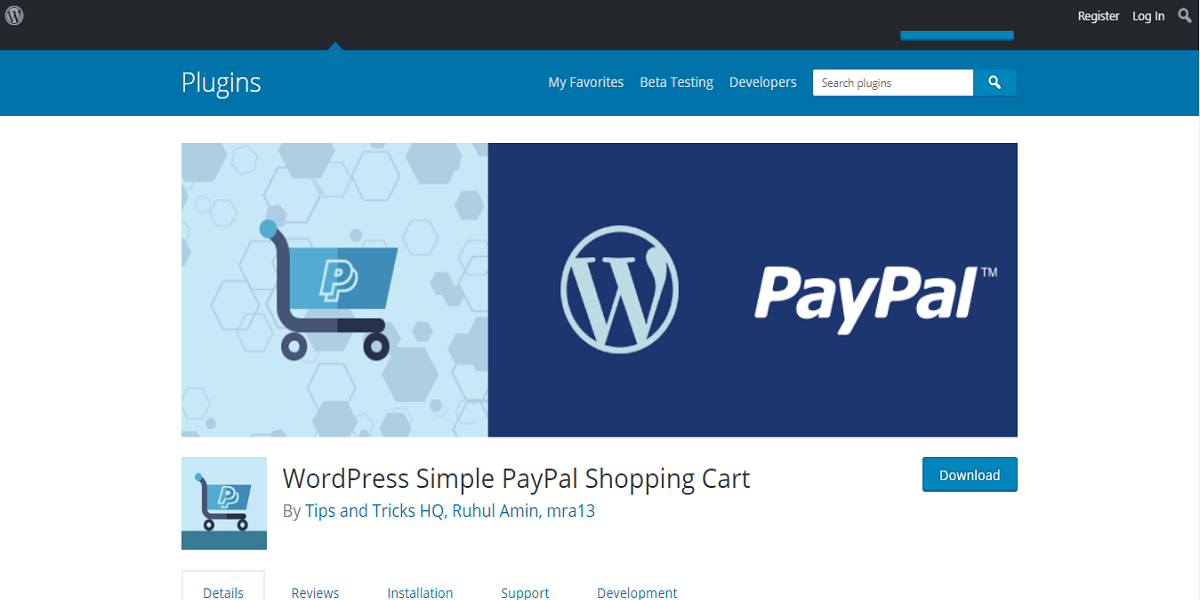 Usually, this WordPress plugin lets you add an "Add to Cart' button for your goods on any pages or posts with this straightforward shopping cart plugin permitting you to sell your services and products directly through your WordPress website. Additionally, it changes your WordPress blog into an e-commerce website.
You can now display or add the shopping cart on any page or post or sidebar with ease with the shopping cart displaying to the users what is currently in the cart subsequently allowing customers to either add or remove items.
Features
Comes with a negligible number of configuration items which ensure the plugin is lightweight.
Enables you to sell products directly from your website and make use of TinyMCE shortcode inserter to add shortcodes to your pages or posts.
Easily translates any language to the one you can understand.
Perfectly works with WordPress themes which are responsive, thus allows you to effectively sell any media file which you uploaded to your WordPress website.
Before going live, you can make use of PayPal sandbox to do tests if necessary.
You can modify the add to cart button image and instead utilize a custom image for all of your purchase buttons.
Customers automatically receive notifications via email via the media file which they made their payment through.
It is companionable with WordPress Multi-Website Installation.
Ability to gather special instructions from your clients on PayPal's checkout page.
Offers you the option of using the smart payment buttons of PayPal hence allows clients to check out in a popup window, either when using PayPal credit, PayPal or credit card.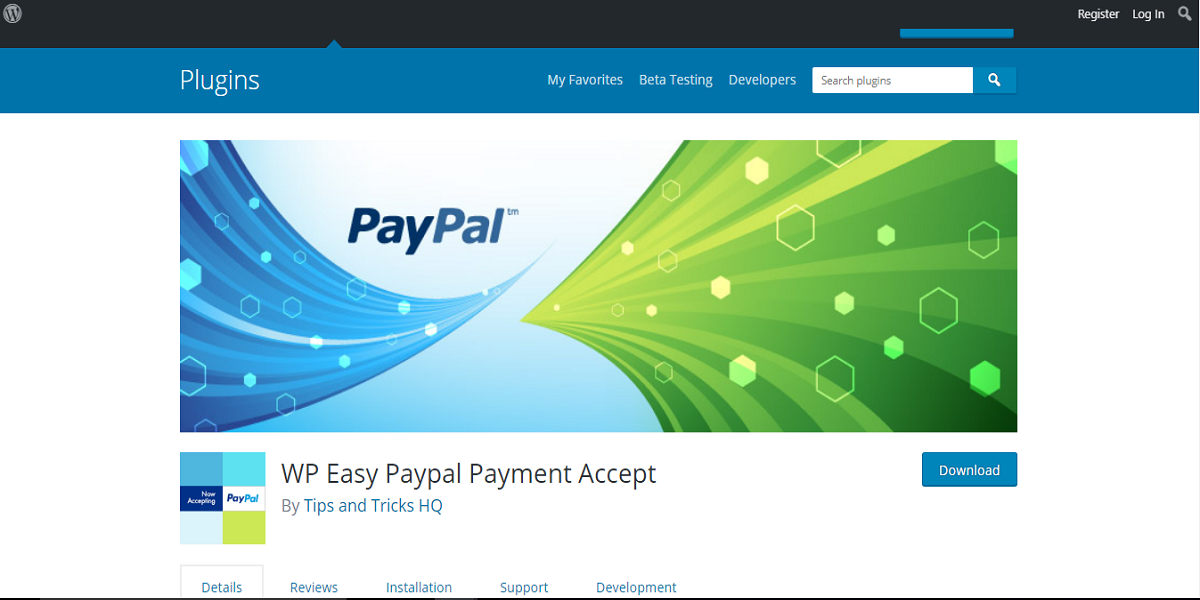 A WordPress which is easy to use as a means of accepting payment for a product or service or donation with just one click, and you make use of it in the pages, posts or sidebar of your website.
Features
You can readily accept payment via PayPal for a product or service from your website
Its installation and setup are quick as well as you can add many payment widgets for the different products or services you offer.
It is the best WordPress PayPal plugin to create PayPal buy now buttons and requires you to have a personal PayPal which is free to develop.
Consequently, you need to integrate your WordPress powered website with PayPal.
Addition of various payment widgets for the different products or services is enabled.
Allows your users to precisely state a payment subject for the payment widget and specify the payment subject for every PayPal payment widget.
After payment, this WordPress plugin can return users to a specific page.
Allows users to create a payment button on the fly and embed the button anywhere on your website making use of a shortcode.
Permits you to set a specific country code hence use a precise language for PayPal's checkout page.
You can create an image or text-based payment buttons as well as a payment button widget that accepts payment in any currency PayPal allows.
Usually agrees to user donation via your WordPress website for a good cause.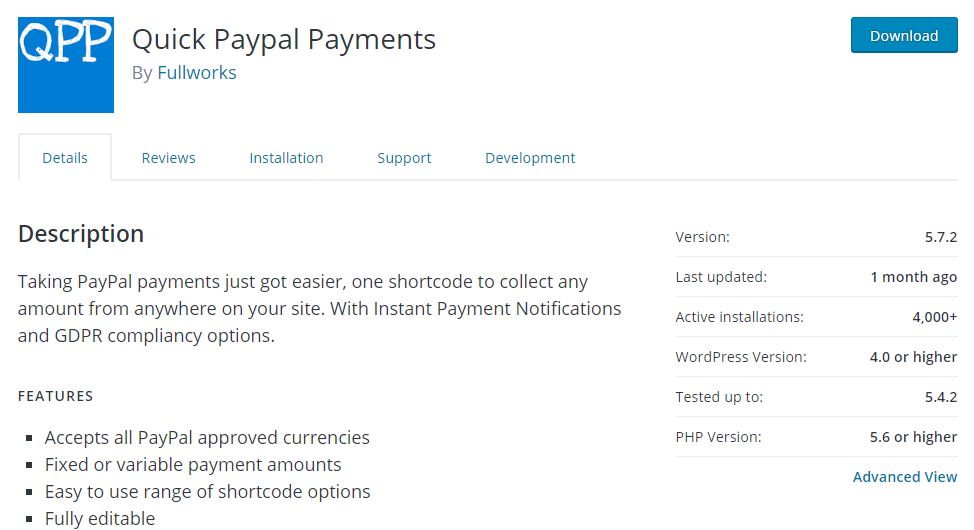 Quick Paypal payment is a WordPress plugin that is used to take Paypal payment in the aqua commode. This plugin has been created or design by full works and it is having more than 4K active installation. this plugin required for point zero or higher WordPress version to install and it contains 5.6 or higher PHP version. Now let's discuss some feature about quick Paypal payments WordPress plugin are given below
It has fixed variable payment amounts and accept all PayPal payments in any currency.
It is easy to use for user and user can also place as a shortcode option.
It is fully customisable and has many style options with multiple languages.
User can add a custom form and place anywhere on the website. User can check and filter out all payment records with downloadable option full stop it is fully editable and autoresponder.
User can get instant payment notification on the registered mobile number or email address.
User can sell multiple products at a time but there is a limitation to sell 9 products at a time.
User can use a custom logo for Paypal page and the user can also integrate MailChimp in it.
It provides personalized support. If a user wants to use its all feature then the user must spend a certain amount of money to buy its legal licence after that user can use all features that have been provided by the organisation.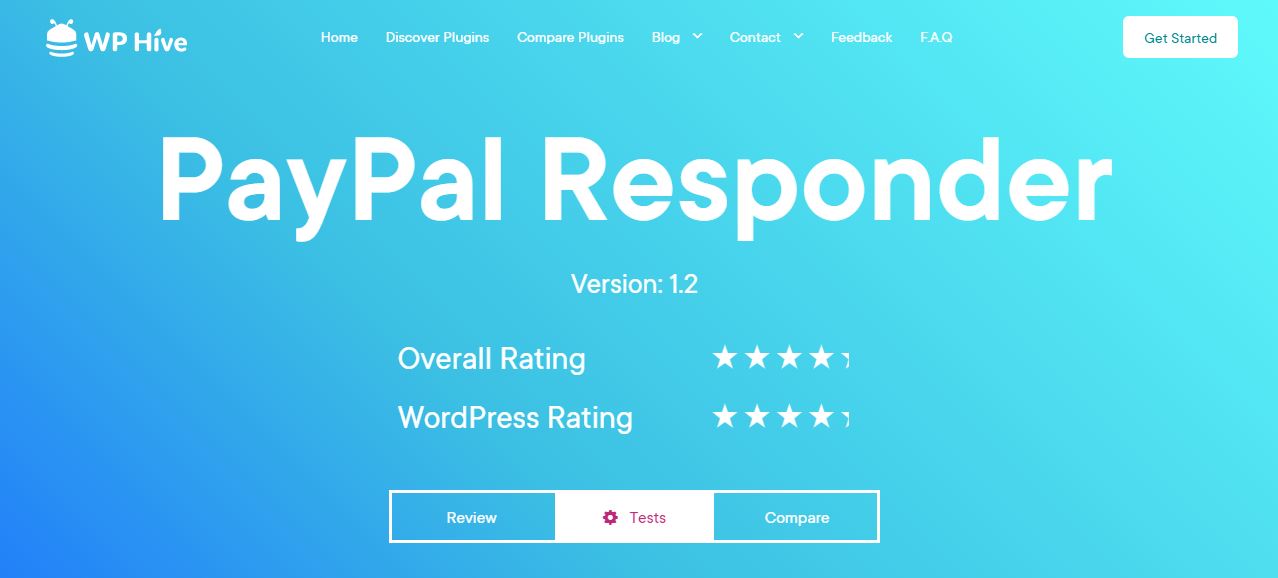 Paypal responder is a WordPress plugin that is used to exchange or get currency from one country to another. It is a medium to transfer money from one bank account to another bank account.
This buttons plugin has been created or design by enigmaweb and it have more than free ke active installation it also supports 3.1 or higher WordPress version
The main function of PayPal responder sends a notification through an email or registered number to the user with a customised URL.
This WordPress plugin is used to sell any type of product on the website.
It is friendly to use because its start and checkout process is so simple.
This plugin is lighting weight simple and its graphic user interface is so friendly.
It can handle multiple products at one time.
It has its own autoresponder template with fully filled off tax that is available.
User can use the default Paypal button or can customise it completely.
User can get both versions of this plugin free version is also available as well as pro version is also available to use its complete feature then the user must buy a pro version after spending a certain amount of money to activate its legal licence.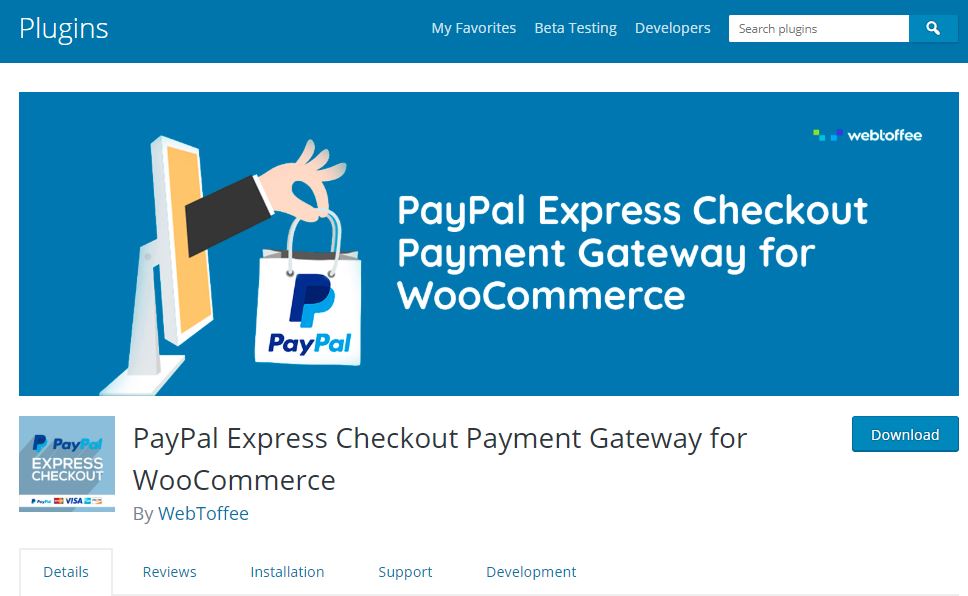 This is a WordPress plugin that is used to transfer currency from one country to another country. Paypal express checkout payment gateway for woocommerce is the fastest WordPress plugin that accepts any type of credit card and link with PayPal account.
This plugin has been created by webtoffee and the latest version of this plugin is 1.4.6 with 8k active installation.
This plugin supports 5.6 or higher PHP version and it is tested up to 5.4.2.
Time problem has been resolved by installing this feature.
It will take less time to do the checkout process from PayPal.
It provides an option of payment through credit card with PayPal.
For the free version, the user can complete its order from the cart page.
Oppo pro version using can complete with an order from product page also.
Its graphical user interface is very friendly and easy to use.
Customer can skip the review of the page and can place an order quickly.
It is tested ok with woocommerce with version 4.2.0.
Which PayPal Plugins Do You Like?
Need help in Plugin Selection or Plugin Issue? We are available 24/7 by Phone or Chat.