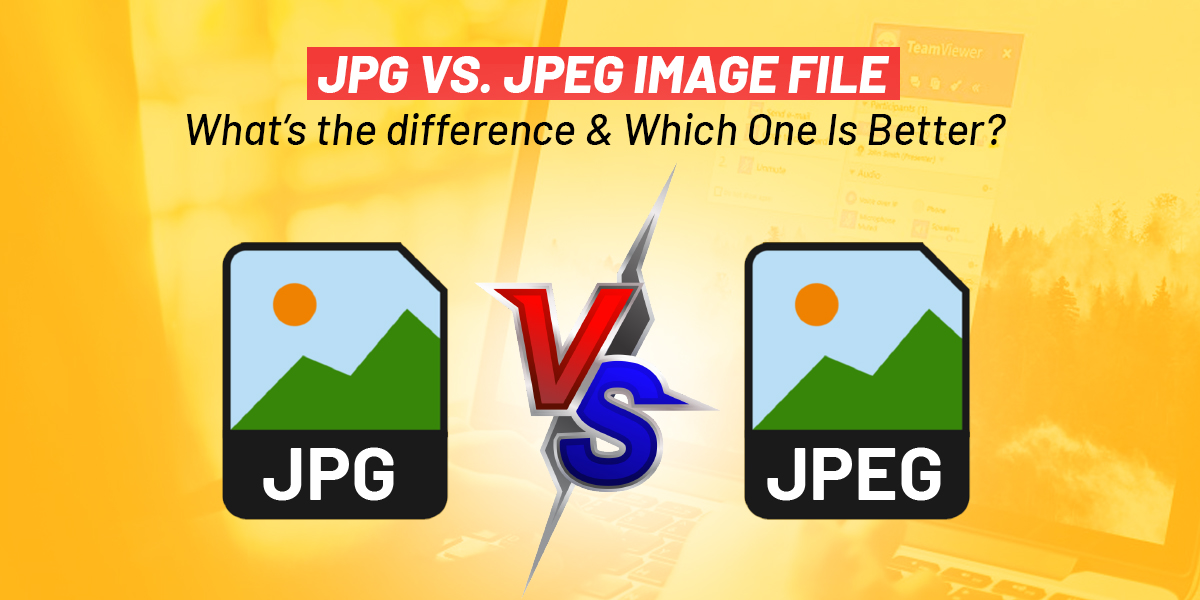 JPG vs. JPEG Image File: What's the difference & Which One Is Better?
Last updated on October 13th, 2021 at 10:27 am
Website owners have been continuously dealing with royalty-free images to make their sites look more enticing and authentic. People commonly come across one of these two popular extensions, JPG and JPEG image file format, when dealing with such images.
Are you crafting a new blog post for your site? You must have been looking for free stock pictures. Here, you might be baffled between these two formats and thinking of which one to choose!
Despite the availability of GIFs, PNG files, and other endless options, why does every marketer get perplexed about JPG vs. JPEG? At a glance, both these image file formats look undistinguishable. More precisely, these terms are so analogous that people used to denote those interchangeably in the past.
So, in today's article, we will talk about if any significant differences are there between JPG and JPEG. To grasp why the image file format holds countless names, we must dig deeper into its intricate past. Let's get started with the JPG vs. JPEG!
Unraveling JPG vs. JPEG
To ease your inquisitive mind, we would like to let you know that technically, JPG vs JPEG comparison doesn't make much sense! So, a quick and hassle-free answer to such a question is that JPG is quite similar to JPEG.
The origin of these two image formats consists of a bit of Windows OS history. A detailed discussion is shown below for both JPG vs. JPEG pictures and what you should know while using those formats on your site.
What are the parameters of comparison between JPG and JPEG?
The significant difference between JPG and JPEG image file format .jpg is a diminutive of the .jpeg extension. Also, JPG contains three letters and JPEG has four letters of the file extension. As far as JPG vs JPEG file extensions are concerned; JPG is the previous and outdated versions of Windows, for example, FAT-16 file systems and MS-DOS 8.3, had a 3-letter limit.
That's why JPEG needed to be reduced to JPG to maintain the limit. As Linux and Mac operating systems never had such distinguishing factors, users save images in JPEG format in those Oss mostly! Furthermore, JPG is a particular and renowned file format as it is comparatively smaller than JPEG and other image formats.
People are confused while differentiating JPG vs. JPEG and incapable of telling if any major differences present in these formats. So, some of the crucial parameters of comparison between JPG and JPEG are shown below:
Letter formatting
Acronym
Quality and Developments
Popularity difference
Where both of these formats can be found
Editing programs that utilize it
Let's check out this comparison table of JPG vs. JPEG image file formats:
| Parameters | JPG | JPEG |
| --- | --- | --- |
| Acronym | The full form of the JPG file extension is the Joint Photographic Experts Group. | The full form of the JPEG file extension is the Joint Photographic Experts group. Basically, it is the full name of its original company. |
| How can these be found? | It's usually more famous on those PCs with older versions of Windows. | PCs with brand new Windows operating systems can seamlessly transform the file format to JPEG. |
| Popularity | Higher popularity rank than JPEG. | Relatively less popular than JPG, but people are nowadays using it unknowingly. |
| Editing programs that utilize it | Some editing apps and software save files in JPG format. | New editing programs save the file in JPEG format. Such programs include Photoshop, PhotoScape, and Photos Pos Pro. |
| Quality and Development | Picture quality usually gets compromised while size amplification and reduction. | Similarly, picture clarity gets affected by size modifications. But, updates are aiding users to get a clear picture every time. |
| Letter Formatting | This three-lettered file extension is pretty uncommon for various smaller devices and PCs. | JPEG contains the multi-letter feature, which has recently achieved much popularity. |
A small introduction of JPG and JPEG
Let's try to figure out the difference and similarities of JPG vs. JPEG with their definitions.
What is a JPG?
As mentioned earlier, JPG is the acronym of Joint Photographic Group, which is an outstanding file extension. But, when it comes to JPG vs. JPEG, the leading truth between these two image files is without the number of characters. If it seems totally crazy to you, let's bear with us for a while to understand everything.
Previously Windows OS didn't accept the higher 3-character limit. But, nowadays, it is accepting 3-4 letters of image file extensions, such as .jpeg. People are more inclined to the .jpg file as they have used the older Windows versions; they didn't stop using it.
Because of such reasons, renowned photo editing software and apps like GIMP and Adobe Photoshop save all the JPEG pictures in JPG format by default on both Mac and Windows OS to cut down any confusion.
Nowadays, on the upgraded Windows laptops and PCs, you may definitely notice that the "JPG" option is right next to the "JPEG" format when you save a picture on Windows.
What is a JPEG?
In this JPG vs. JPEG comparison, we will see what a JPEG format is! As mentioned earlier, JPEG is the acronym of the Joint Photographic Experts group. The name was invented after the sub-committee, which helped spawn its interchangeable format, JIF.
The ISO standard of such a top-notch format was initiated at the onset of the 90s. As far as its features are concerned, JPEGs possess 24-bit still raster pictures with superior 8-bits in every channel of the RGB color model.
Hence, it never leaves a single room for an alpha model, meaning JPEG can support more than 16 million colors. But, they can't provide transparency. To provide you the detailed information in this design world, JPEG features three extraordinary things:
1. Joint Photographic Experts group
It is the full name of the sub-committee liable for creating the JPEG picture standard. In 1992, JPEG format was issued by ISO.
2. Lossy compression of JPEG
You can't put up any random and larger picture on your site as it may disrupt the user experience. A larger image usually takes a higher time to load on the user's browser. That's why it deteriorates customer expectations.
Whenever you upload a high-quality image on your website, you must be trying to find a delicate balance between minimizing the website's speed and keeping the quality of that picture. Here, a lossy compression of JPEG comes into the show to help keep your graphic files short. That's why your site will load faster and your customers will never face any loading issues.
3. The JPEG file format
To get the most high-quality and vivid pictures, the JPEG format is mainly used. It primarily supports 16,777,216 colors and works seamlessly with various types of images. Due to its lossy compression feature, JPEG can expel inadequate data from the image. Therefore, it results in a compressed file, which loads quickly.
It indicates you will be competent enough to maintain the compression ratio of the images. Simultaneously, you can also manipulate the image quality and size. Although curtailing the image size harms the picture quality, still, the size reduction happens in a minimal amount, which may not be observable to the visitors.
Which one is better among JPG vs. JPEG?
At this particular point, you should have understood that there isn't enough difference between JPG and JPEG despite the number of letters associated. That's why, when it comes to utilizing them on your site, one shouldn't be better than the other.
In this JPG vs. JPEG comparison, both image extensions look and function similarly. Let's understand this by an example: if you need to save a picture in a JPG format, then again as a JPEG file, there will not be any noticeable differences.
Well, these two are the matter of labeling the type of image files. JPG and JPEG are Raster pictures and they use lossy compression at the time of downloading. So, we couldn't say to choose one over another. But, if you want to use and stick to one image extension, we recommend using JPEG format due to its enticing features
Advantages of JPG and JPEG
Regardless of what you call them, both picture formats have significant amenities in the image management world. The superior benefits are shown below:
Quicker photo size-reduction
Convenient web viewing
You will get numerous themes and plugins, which accept JPEG and JPG uploads
Seamless web design
Less bandwidth
JPEG can be compressed approximately up to 5%
High-resolution pictures
Complete color spectrum
Disadvantages of JPG and JPEG
No layers present
It doesn't support animations and transparencies
Concluding words
Have you created a beautiful travel blogging site in WordPress? It's time to embellish the pages with eye-catching pictures. So, which picture file format would you like to use on that site? There is enormous confusion about using JPG vs. JPEG files; these two file extensions are similar and remarkable for HD and colorful images.
Also, it doesn't take a lot of space on your site, which means faster loading. Hopefully, this article has provided detailed information about both JPG and JPEG. If any questions persist, kindly let us know!