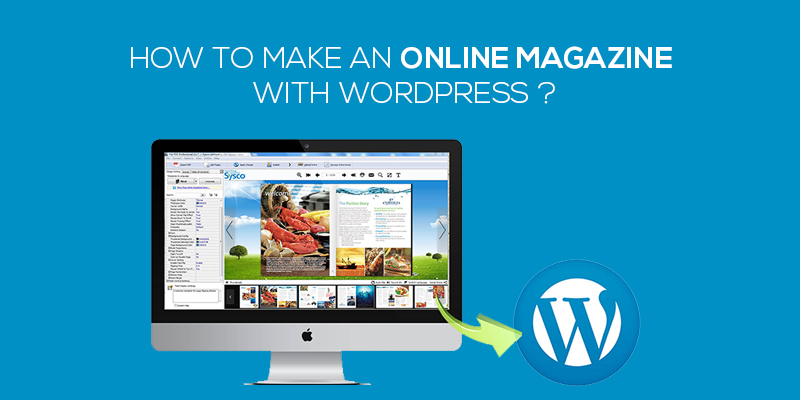 How To Make An Online Magazine With WordPress
Last updated on August 11th, 2021 at 06:40 am
WordPress is definitely the storehouse of opportunities. You can do anything and everything using it as the base. Whether you wish to create and run a blog, design and deploy a website, start an online store or be a developer, WordPress entails all.
One fascinating way to kick-start your online business is by creating online magazines through WordPress. We are well aware of the fact that physical magazines would soon turn obsolete. With more and more apps taking over the digital world, people are more likely to switch to online mediums of reading magazines and what would be better than using WordPress?
Without a doubt, creating magazines whether online or offline, requires multiple things and is not easy. WordPress, on the other hand, is equipped with an array of tools, plugins, and resources, emerging as the right channel to create online magazines.
Also, print media magazines incur tremendous upfront investment which might turn fatal, if your business doesn't perform well. As a starter, the best you should create a zero investment strategy and then scale afterward.
Digitizing your print media, you can effectively cut down the middlemen cost, you would have to pay when selling magazines offline. In fact, the number of sales isn't reliant on the total supply.
And this is all that WordPress has to offer!
Why Create Online Magazines through WordPress?
Amidst a plethora of options, you might think about why to invest in WordPress. Well, that's a pretty good question.
For one, the upcoming decade would witness digital streams taking over the traditional ones. The print and media industry has already experienced a shift in the mindset of readers where news apps are more popular than offline channels. Continuing the legacy, magazines would also drift from being paper-based to evolving through online channels.
WordPress is free to use and easy to implement the platform.
WordPress has plenty of tools and plugins that can be used to create custom-fit websites
Alluring themes to design attractive magazine sites
No upfront cost needed when starting with WordPress.com
Anticipating right?
Another important reason is that digital media has plenty of revenue-generating options. Where you can create a subscriber-based revenue model, you can also embed ads and adopt means of influencer marketing to earn through digital magazines, created using WordPress.
Prerequisite
Before you move ahead with creating an online magazine through WordPress, make sure you have the following:
A WordPress account
A registered domain name
A web host
In case, you plan to start without investing in the domain and hostname, you can continue creating the magazine, hosting your content on WordPress.com. We suggest you buy the domain name as it offers endless support, has unlimited themes and plugins, enabling you to design the website, in a way that serves your interest best.
Sounds good?
If you are all set to kickstart your online journey through magazines, let's move ahead to see how?
How to Make Online Magazines through WordPress?
Considering that you have a WordPress website and a domain name for the site, we move ahead to the steps of creating an eye-catching magazine website with WordPress.
When you first log in to the WordPress website, you will be asked to choose the theme for your website. Now, going with the default will give you a basic look, and restrict the appearance of the site. What we suggest is choose a theme that is lively and attractive, at first sight. It should reflect a sleek and intriguing interface.
Now, there are several aspects you need to take care of. First being that you are to publish a lot of content, so the website should have s blogging outlook and second, the image gallery needs to be amazing. Make sure that the navigation is simple and does not require enormous efforts. In fact, the simpler the better.
If you are a beginner, prefer starting with free themes. Once you have been accustomed to the concept, you can then move ahead to embed paid themes.
Pick Up A Niche & Decide How To Publish Content
If you are just about creating an open platform for readers, you can simply upload content or write and publish it over your website. However, if you plan to monetize your magazine and earn from this, you need to decide how?
You can either use a subscription-based model. Here, some part of the content is hidden behind the paywall and readers need to pay to gain total access.
Another way is to set up a fee for every activity. For instance, if the readers wish to comment, or download, they would need to pay for the same.
Never make the mistake of hiding the entire content. This might lead to zero traffic. Irrespective of what and why there should some part of the content that is freely available to the readers. Kind of a marketing strategy, understand?
Finally, set up the desired plugins for membership, subscription, etc and you are now ready to host an online magazine through WordPress. Instant Chat Now