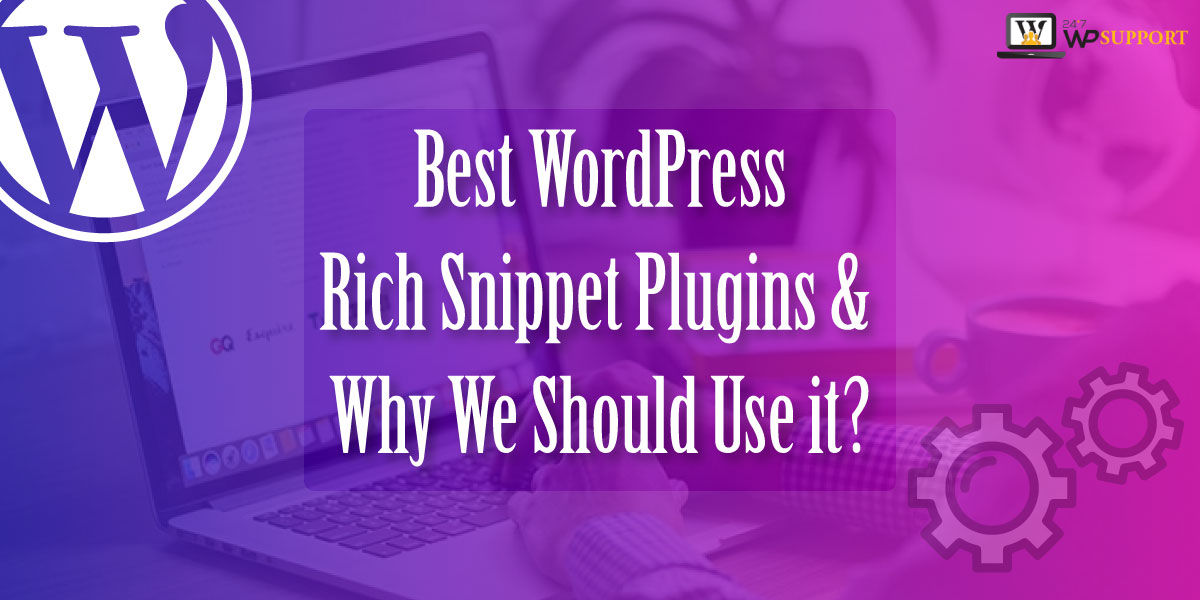 Best WordPress Rich Snippet Plugins & Why We Should Use it?
Last updated on August 11th, 2021 at 06:41 am
Do you know how rich snippet can increase the traffic on your WordPress website? They allow you to have custom search listing for a particular content like reviews, events, star ratings, the cooking times, events, etc. Like this:
Where this 5-star ratings come from? Well, it is basically the result of adding schema markup to your content. It increases the click-through rates that can also be measured by Google search analytics which shows you the difference as well of not using it.
Schema markup WordPress can be used to get all sorts of Rich Snippets in Google, comprising-
Article Information
Star ratings
Recipe cooking times
Embedded photos or videos
Events time, date & location
Product information
Address and Phone numbers
Why is it important for you to use Rich Snippets on your WordPress site?
Rich Snippets are very easy to understand, they offer the site owners another approach to communicate with the search engines. Structured data is behind the scenes code that enables the search engines to see numerous types of content on your website and uses rich snippets to show more information in search results.
The additional information that you add in search results would make-
Listing better and noticeable, that means you would have more organic traffic.
Improve the ranking of your site, you would be able to sell more products
Let the viewers know that the content is appropriate.
As, you know the benefits of using the snippets, we have prepared a list of the best ones for you to choose from.
Schema Markup made easy- Rich Snippets Plugins for WordPress
It is a rich schema markup WordPress plugin from Brainstorm force, it is the same team that made Astra and other such plugins. It would support you in adding perfect JSON-LD schema markup to your website, but in a different manner as compared to others. This plugin also provides you with a suitable interface so that it automatically maps the structured data markup to crux WordPress custom fields.
The other plugins usually implement schema markup by adding fresh content but Schema pro skips that. You can easily add schema markup to your content with the existing content. If you want, you can also conditionally affix various sorts of markups based on the post types, their categories or any other conditional statements. After that, it would automatically add appropriate structured data as per your settings.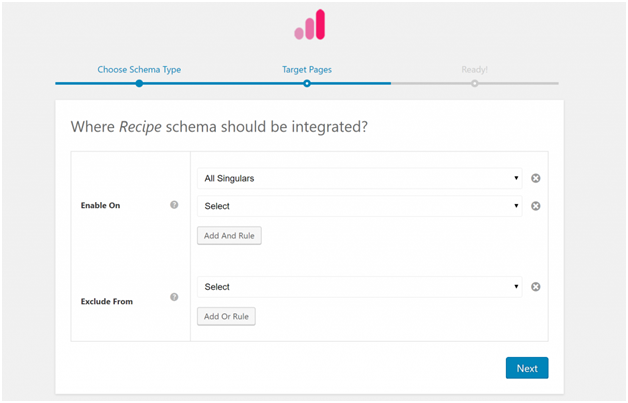 For adding schema markup for particular content, you would have to choose the type of schema that you want to add from 13 different types-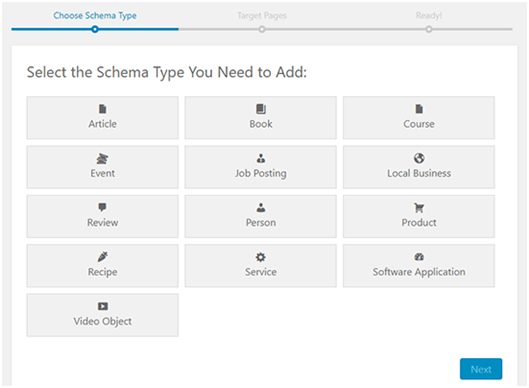 Once this is done, you need to select the content that you wish to target. If you want you can target or all select the particular pieces of content. After selecting you can easily map different markup options to existing fields. Thus, if you wish to summate schema markup to WordPress without comprising of the extra content box, Schema Pro is pretty easy to add in just a few clicks.
If we talk about the cost, it is $79 for unlimited websites in which you would get 1-year support and updates. Also, you can opt for a lifetime license by paying $249.
You would be glad to know that this tool comes in both a free and premium version. One thing that we love about this plugin is that it unlocks the complete schema.org library for the WordPress site if you opt for the premium version. It is one of the most expensive tools as compared to others but it also provides you with amazing features too and is a complete value for money. If you go for the free version, it would help you add a few sitewide schema markups but the advanced features are available only in the premium version.
In the paid version, it automatically utilizes the information provided on the website and then adds schema markup to all the pages and posts. Plus, if you have a WooCommerce store, then its eCommerce extension can benefit you in adding rich snippets to your product pages. You might get disappointed to read that its free version is very limited you would get only 50 data items and 10 pages of content.
For the premium version, you would have to pay $30 for a single website that means you would have to worth the ability to add structured data to your website.

This WordPress snippet is from Brainstorm Force. This is a good snippet but there are a few drawbacks that it would not let you create review boxes, comparison tables or anything like that. All in One Schema has a unique approach to structured data and it is vital to understand the difference.
Instead of adding 100% behind-the-scenes JSON-LD structured data such as Schema Pro it adds a fresh front-end content box that is visible to your visitors and after that, it would add micro-data to the content in the box. It also helps you in adding 8 different supported content types which are-
Review
Articles
Videos
Event
Product
People
Software Application
Recipe
It is very easy to use as when you would create a piece of content, you would have to get a fresh Rich Snippet Meta box that would let you choose what the post is about. In case you select a Review type, then you would have to put the reviewer's name, item's name and star rating. If you choose a recipe type, then you can also add cooking time, etc.
Thus, if you want to go for a lightweight and easy method to add schema markup for numerous content types, then this can be a great option, especially when you know it's free

This is one of the best plugins because of the advanced features that it provides. You would be amazed to know that it offers 14 types of rich snippets, it is apt whether you want to review products, games, books or anything else. With so many types of rich snippets options, you can choose one easily as per your requirements. All in all, this is the best plugin for publishing reviews to leverage rich snippets.
Once the plugin is installed and activated, you need to go to the Edit Post Screen and start adding rich snippet reviews. Plus, if you want you can also add a Review Description for every review and select enable User Reviews if you want the readers to leave their feedback or comments.
The amazing features that it offers are-
16 Predesigned designs
Multiple Rating System
User Comment Rating and Review
Compatible any WordPress theme
Google Places Reviews Integrated
Yelp Reviews Integrated
Facebook Reviews Integrated
Comparison Table
WooCommerce Integration
These are some of the amazing features of this tool plus it also supports Point review, star review, and percentage review. WP Review comes in both a free and premium version. You can buy it for $19 a month and if you wish to buy the yearly subscription then you would have to pay $87.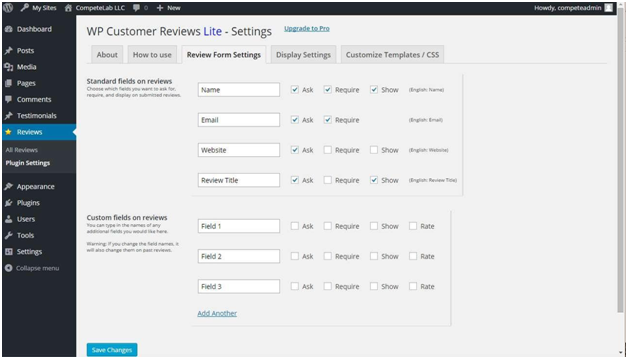 This was about some of the best Rich Snippets on WordPress site but we would learn how to add them.
How can you Add Snippets to WordPress?
You can do it in two ways, one is by doing it using plugins and the second is doing it manually.
1. Adding Rich Snippets in WordPress by using a Plugin
It can be cumbersome for many people to maintain Rich Snippets manually; in fact, there are a lot of experienced users who find it tough. Using a WordPress plugin makes this process not only simple for you but also very time-saving. Thus, you should first choose a good WordPress plugin that suits your requirements.
You can also opt for All in One Schema Rich Snippet as it is free of cost. Once you install any plugin, you would see the Rich Snippets menu and from there you would see a drop-down menu and choose the content type for the post that you are working on. After choosing the content type it would show the rich snippets fields that you need to fill. After filling the details you would have to save the post to store the rich snippet data.
2. Adding Rich Snippets Manually in WordPress
If you do not wish to use a WordPress Rich Snippet plugin there are some of the manual ways which can be used to add structured data to your WordPress website. You can write Rich snippets in three different languages, which are RDFa, microdata, and JSON-LD. Well, you can use any of them but most beginners find JSON-LD easy and simple as compared to the other two.
You can use JSON-LD schema markup for generating basic sitewide schema markup for your website as it is simple and can be done in just a few steps. If you are manually adding rich snippets into the WordPress post, then for that you would need a Text editor so that you are able to write the needed markup.
Wrapping Up
In this article we have shared about the best WordPress Rich Snippet plugins for you and how to add them. Perhaps, it solely depends upon your preference and suitability as per your website, but ensure that you validate Schema Markup by using Google's Structured Data Testing Tool, well all plugins mostly work fine but it is always good to double-check. Chat Now