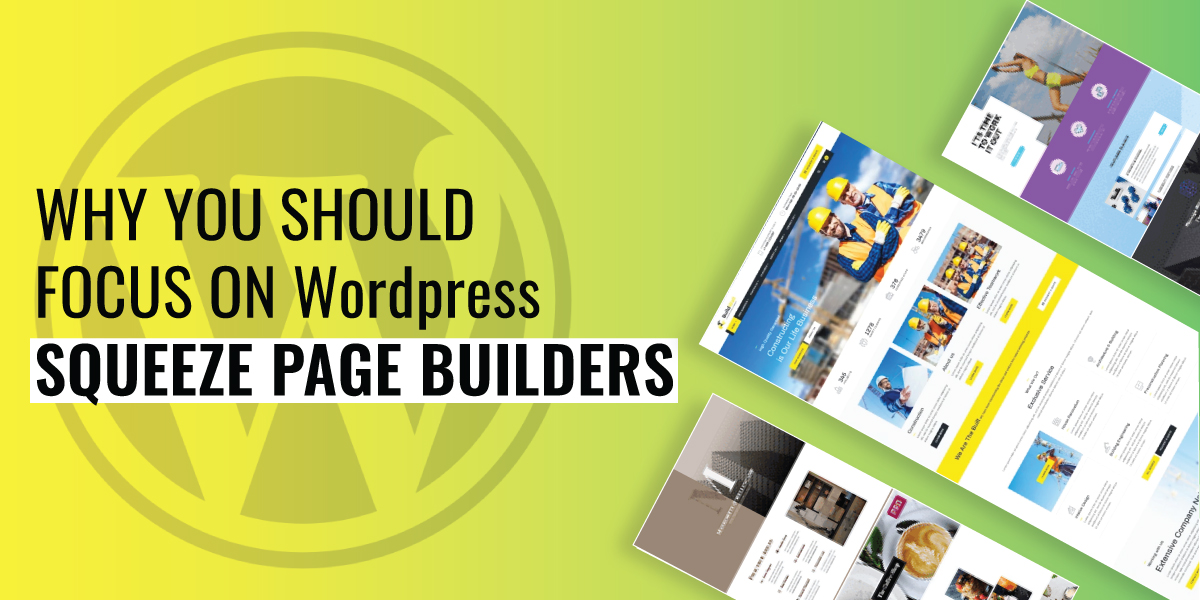 Why You Should Focus on WordPress Squeeze Page Builders
Last updated on August 11th, 2021 at 05:46 am
Email opt-ins from visitors are essential to the sales funnel of your website. However, you need squeeze pages to extract emails from visitors and potential leads. These squeeze pages can improve your list building efforts and include prospective customers into the sales funnel.
Although it's crucial to keep your website secure and reduce the website's loading time to less than one second, it's also important to grow the website's audience by gathering their emails.
With that said, WordPress does not offer a default method to create squeeze pages on its platform. Therefore, you need a third-party tool or plugin to build squeeze pages for your website.
In this article, we explain why you need to focus on WordPress Squeeze Page Builders and list down the best plugins for building landing on WordPress.
What is a Squeeze Page?
Being a website owner or a WordPress developer, you must have heard about landing pages. To keep it simple, a landing page is a website page specifically built to encourage and drive visitors to perform a certain action. This action can be anything, from subscribing to a service, pursuing a product, or exploring a topic on the website.
A squeeze page is a unique landing page designed for prompting visitors to one specific action, submitting their email address.
Why Are Squeeze Pages Important?
If you're a website owner, you must understand the importance of building a smooth sales funnel for your website. A sales funnel is a series of events a website visitor goes through from visiting your website to buying your product or service.
You need to create an efficient funnel to sell products and services effectively. I will help you acquire more leads, boost conversions, and increase your overall profits.
Acquiring email addresses through squeeze pages is an important step in the sales funnel. These squeeze pages are designed to politely convince website visitors to submit their email addresses and are the first step in making a sales funnel on WordPress.
With each new email address you collect through a squeeze page, you will have a new lead, which will ultimately increase your chances of getting a new customer for your business.
What Are the Main Elements of a Good Squeeze Page?
The most defining characteristic of most squeeze pages is that they are aggressively optimized for one single action. They limit the options available for website visitors and drive all their attention to the email capture form.
For this reason, a good squeeze page should be optimized to deliver a clear, concise and defined message to the website visitors. It should also have the following characteristics to acquire the email addresses of potential leads successfully.
Promising Lead Magnet
A lead magnet is an offer you give to new subscribers in order to persuade them to sign up to your list. It can be anything your website visitors find useful; a discount, a white paper, a free trial, an informative PDF guide, or any other thing that attracts readers.
Firm Call to Action
Although the lead magnet is the most important element of your squeeze page, you should support it with a strong call-to-action. It's important to remember that your call-to-action should push readers to click the subscription right away.
A good CTA is concise and prompts visitors to act immediately. For instance, if your lead magnet is a free trial to your service, your CTA can be, "Try YourServiceName Now for Free!".
Minimal Distractions
It's important to remember that the squeeze page should be optimized for one single action, which is acquiring the visitor's email. Therefore, any additional element on the page will just distract your readers from signing up to your list. This is why you must eliminate any distraction that's not related to your page's CTA.
What Are the Best WordPress Squeeze Page Creators?
Since a squeeze page is just a special kind of landing page, you can build a squeeze page for your website with the help of a WordPress landing page builder. These page builders are available on the platform in the form of WordPress landing page plugins. Here is a list of some of the best WordPress Squeeze Page Creators:
WordPress Landing Pages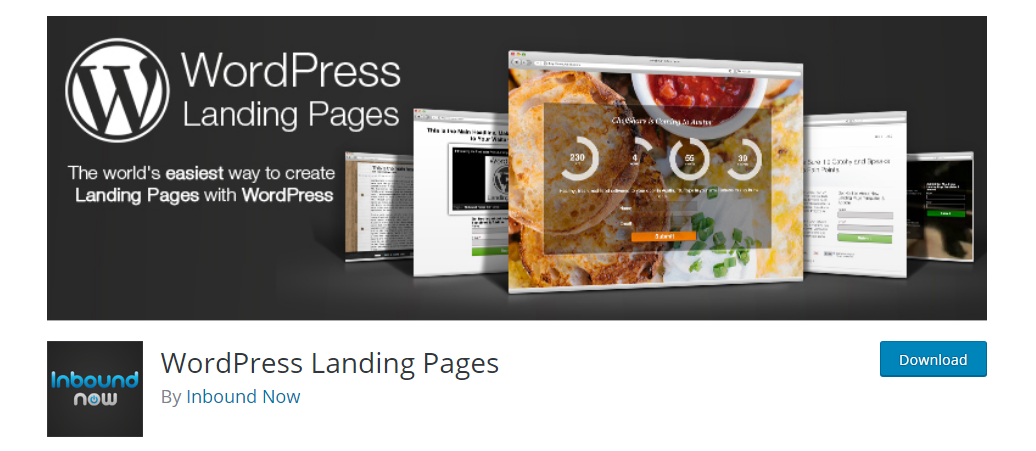 WordPress Landing Pages is a landing page plugin for WordPress. You can use this plugin to build any kind of landing page you want, specifically a squeeze page. The reason why we recommend using WordPress Landing Pages is that it has countless templates specialized for squeeze pages.
Nevertheless, you still have the option to adapt the squeeze page design to your own theme or use a template from the template library. If you want to change anything in the template, you can use the plugin's visual editor to make changes and observe them in real-time.
After creating the squeeze page, the plugin lets you track conversion rates gained from the page and perform A/B tests on the changes you made to enhance its performance.
While WordPress Landing Pages offers so many features for free, it also holds back certain essential squeeze page features in the form of paid add-ons. For instance, if you want to integrate your email marketing software with your squeeze page, you need to pay for the additional service.
Pros
A/B split testing
Countless free templates for squeeze pages
Monitors and tracks conversion rates
Real-time landing page visual editor
Mostly free, with paid add-ons for some essential features
One of the best options for creating squeeze pages
Cons
Limited support options
You need to pay for some essential features
Thrive Landing Pages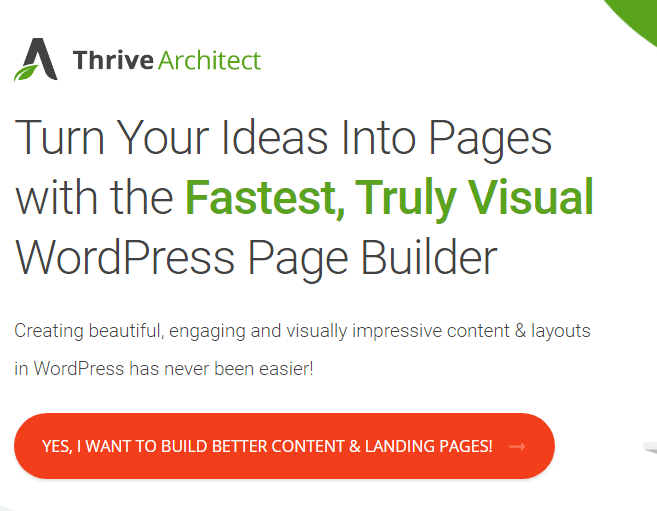 Thrive Landing Pages is an extension of the famous Thrive Themes, built specifically for creating landing pages. The plugin focuses on converting website visitors into leads by helping you create squeeze pages.
If you want to use this plugin, you can access it through its bundle with the Thrive Content Builder. The plugin allows you to edit pages in the form of a finished web page, using a drag and drop web page builder. This is why the tool is extremely easy to use, and the fact that it offers dozens of dedicated squeeze page templates makes it a great option.
The developers of these templates have designed them, keeping conversion optimization principles in mind. Therefore, it will be easier for you to extract email opt-ins from your users.
However, the greatest thing about these templates is that they are themed together. As a result, you can build seamless sales funnels for your visitors and guide them from the squeeze page to the download page and then the 'Thank You' page. Since every page is designed in line with the pages before, your visitors will feel a cohesive experience on your website.
With that said, it's also important to mention is that Thrive Landing Pages is Everything is not free. The plugin charges its users $69 for using it on a single site.
Pros
Dozens of templates for squeeze pages
Options for mobile sites
Popup Engine
Marketing features
Scalable backgrounds
Works with all kinds of themes
Cons
Upgrading with Thrive Content Builder may cause problems with the tool
Advanced marketing features may be complicated for beginners
Lacks global save sections
Beaver Builder
Beaver Builder is one of the most popular WordPress landing page plugins in the market. The plugin has an easy-to-use page builder, which lets you design finished web pages by dragging and dropping design components.
Not only does the plugin give you the option to add new modules to your website, but it also lets you use dozens of ready-made templates for squeeze pages. The plugin is compatible with every theme on WordPress, so you can edit squeeze pages and make other landing pages regardless of the theme you use.
Despite being intuitive and easy to use, the WordPress squeeze page creator is powerful enough to make extensive landing pages for your website.
Nevertheless, Beaver Builder costs $99, which seems too much for a builder suited for beginners. However, the plugin offers 1-year support with this package, along with the option for using the plugin on countless sites.
Pros
User-friendly interface
Useful library of templates
You can save your own templates and content sections and use them for other purposes
Offers reliable support options
You can use it on multiple websites, even on the least-priced plans
You can save modules and rows and then use them again globally
Offers reliable support
Cost-effective
Cons
Limited module library and customization options
Limited design flexibility
Can lag sometimes
Suited mostly for beginners
Leadpages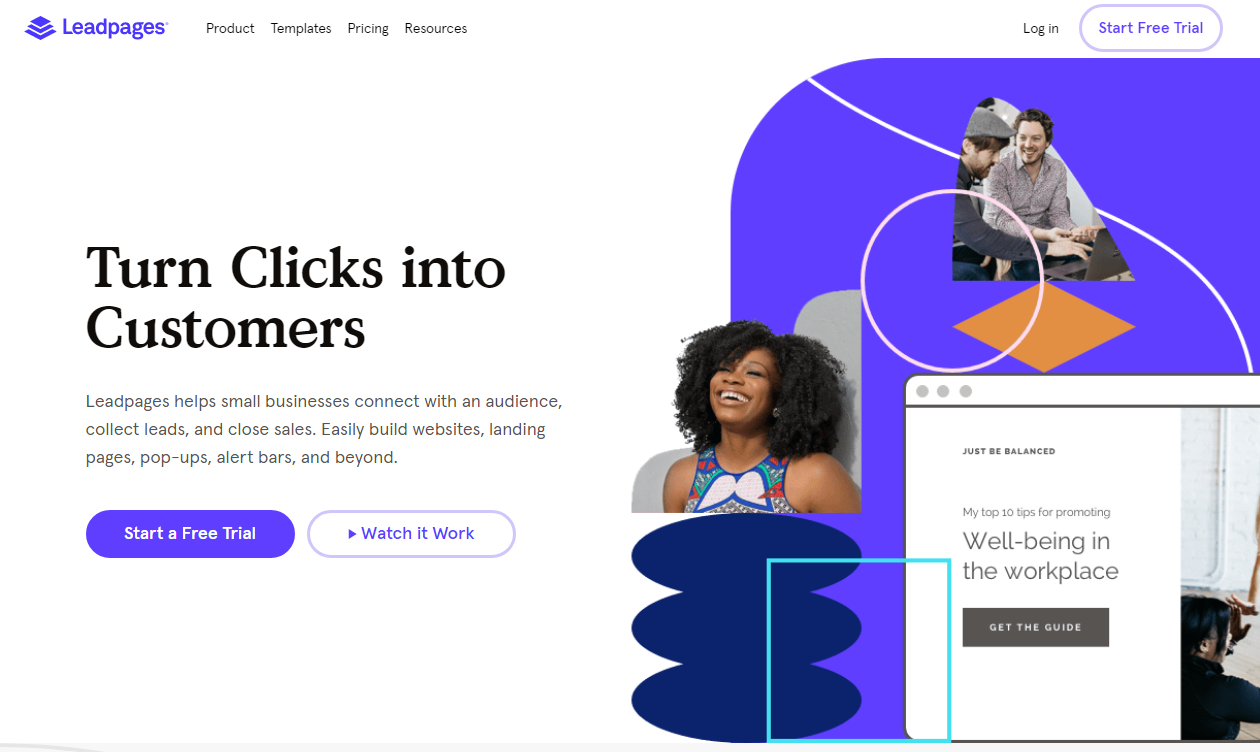 Leadpages is one of the priciest WordPress landing page creators, but it offers a ton of awesome features. To begin with, Leadpages is not a typical WordPress plugin, so you can't use it on your WordPress dashboards.
Instead, Leadpages works as a standalone external service at Leadpages.net. Therefore, it can offer multiple customization options over its website. With that said, it also offers a WordPress plugin, which you can use to shift your created squeeze pages to your website.
You can use the service's intuitive drag and drop page builder to create crisp and attractive squeeze pages for your website. The platform has 75 free templates, but also contains hundreds of paid templates for you to use.
Another great thing about it is that all of the pages created by the landing page builder are mobile responsive. Therefore, you can collect leads and email opt-ins, regardless of which platform your website visitors use.
Leadpages even gives you the option to host your squeeze pages and deploy them deployment instantly. Once you create a squeeze page, you can also test the performance and conversion rates of that page through A/B testing. Furthermore, you can also integrate with almost all popular email marketing services.
As we have mentioned, Leadpages is not a paid service, but also one of the most expensive ones out there. The billing starts at $37/month if charged monthly and costs $25/month if charged per year.
Pros
Beginner-friendly
Create squeeze pages instantly
Attractive designs
You can sort templates, according to their conversion rates
Integrates with most popular tools
Cons
Not many styling or customization options
Extremely expensive
Divi Page Builder

Divi is one of the most popular themes available on WordPress. With that said, it is also a dependable plugin for creating pages. The theme slash page-building tool is an extension of Elegant Themes, which is one of the oldest theme shops on WordPress.
The plugin offers only 20+ templates for building landing pages, which isn't much. Still, you can use the platform to make your own templates and use them again whenever you need them. The page builder takes after the attractive designing elements of its parent themes.
Divi page builder can fulfill most of your basic needs and create useful squeeze pages for your website. Nevertheless, it doesn't offer extensive features, but covers that with a price of $89, without any restriction on how many websites you can use it on.
Pros
Front-end page builder
Inline text editing
Responsive editing
Offers global elements
Offers more than 40 elements
Cons
Doesn't support theme building
Doesn't support custom header or footer
Doesn't support popup builders
Conclusion
We recommend using a landing page builder that fits your needs. Usually, most of your needs can be addressed with the help of free WordPress squeeze page creators like WordPress Landing Pages. However, if you want to access more advanced options and also have a decent budget, you can try premium landing page services such as Leadpages.