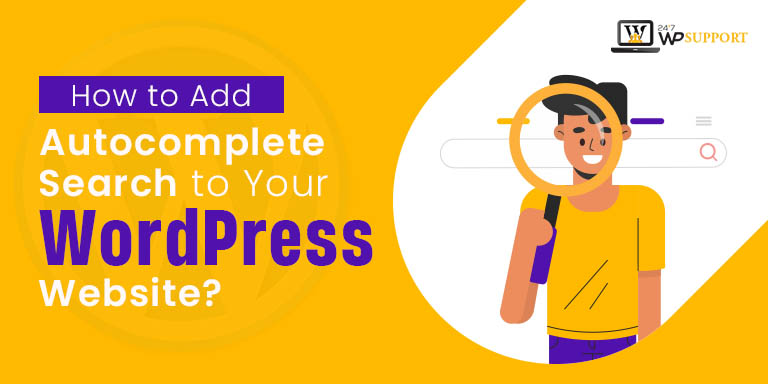 How to Add Autocomplete Search to Your WordPress Website?
Nowadays, every website with a search bar section has an autocomplete feature. If you use a search engine, you might have noticed how search engines recognize a keyword before you even type it. This auto-suggestion is a time-saving process.
Although WordPress comes with pre-installed search functionality, neither "autocomplete search" nor "live search," features are natively supported. Using the right plugin, you can add autocomplete search to your WordPress website.
Let's check some of the best plugins that can help to implement autocomplete search.
Why is it important to add autocomplete search to your WordPress website?
As search engines are becoming smarter, people are finding it easy to look for content and matches that match their requirements with minimal effort.
Consequently, switching from a powerful search engine to using a website's internal search function can be jarring. Despite the fact that WordPress' search feature has plenty, it misses the mark on the high-level choices that most guests have become accustomed to.
Users will have a better overall experience because you make it easier for them to find the content they want.
How to add autocomplete search to your WordPress website using a plugin?
You have a lot of options for WordPress autocomplete search plugins, but not every plugin has the right feature that your business requires.
For this segment, we'll zero in on three of the most ideal choices that can empower and enable predictive search.
You can Enable Autocomplete:-
a. In WPSolr
The premium search suggestion plugin, WPSolr is compatible with both standard WooCommerce and WordPress websites. It enables you to customize search results across multiple websites and is powered by the platforms like Solr and Elasticsearch.
WPSolr is likely something you'll like if you like plugins that offer as many customization options as possible. It simplifies activating live search, which is a plus.
b. In SearchWP
SearchWP is highly known for assisting clients in finding content that WordPress' default search features do not recognize. The plugin upholds custom field information, shortcodes result, scientific categorizations, and even WooCommerce item subtleties.
Ajax Search Lite comes with features that are typically only found in premium WordPress search plugins. Using this tool, you can help your users with custom field types, custom post types, and other sorts of metadata.
You can get WordPress Support from a splendid team like 24×7 WP Support to add autocomplete search to your WordPress website. To know more, contact us!