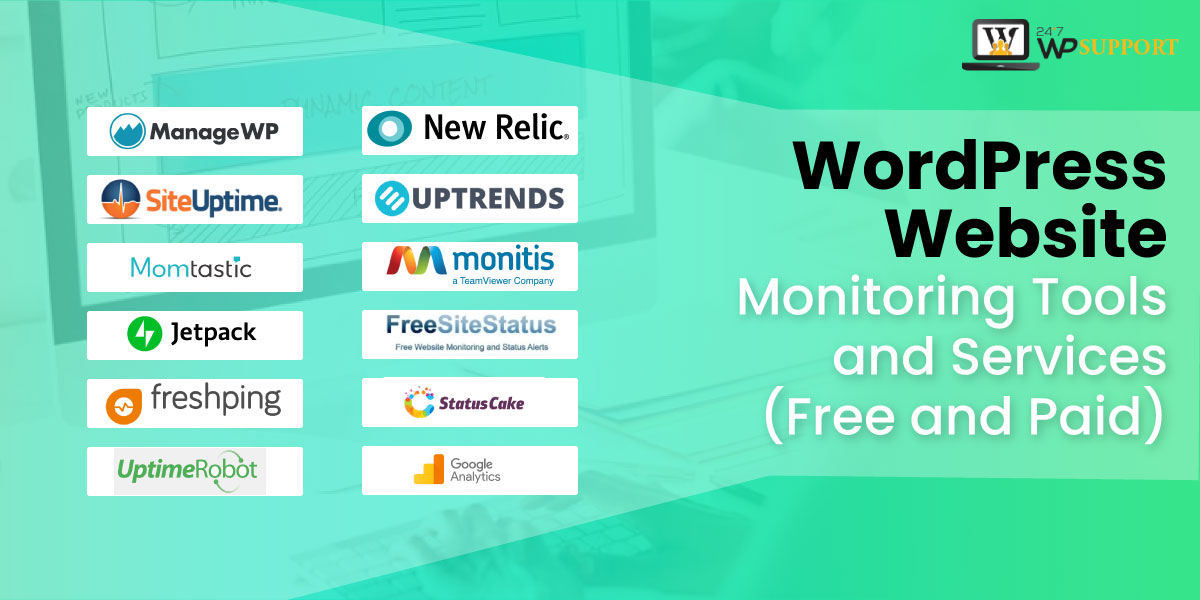 WordPress Website Monitoring Tools and Services (Free and Paid)
Last updated on August 11th, 2021 at 06:57 am
Does your website have the right behavior? Is it online at all times? How can you be sure? What are the most popular pages? How many guests you had in previous month? How quick are the pages loading? Are they good enough? Believe it or not, these are all critical issues for your website's health— and shouldn't be overlooked!
Do you still have all these questions running in your mind? You must not overlook them. Let us try to find answers to all the questions. Even if you're always taking all the mandatory steps to manage and secure your WordPress site, your site may still go down sometimes for reasons you can't monitor.
Whenever this happens, you must be prepared to put things back in order quickly because the more you wait, the more money you leave on the table. Luckily, there are a few helpful website monitoring tools and software out there to track WordPress uptime and downtime for you, so you don't need to check it out manually. The guide's goal is to help you keep track of all you should be.
Importance of Website Performance Monitoring
Website monitoring tools verify and check whether the end-users are interacting with the websites as expected. It also involves the functionality of the site, website security, and uptime measuring.
Whenever you monitor your website performance, you need to observe three things mentioned below:
The Visitor Statistics: It figures out how many people have visited your website, what pages they have visited, how they have reached your website, and more.
Speed of your website: Is your page loading faster? Load all the pages quickly? Site speed monitoring ensures that you know everything about this and that you can step in if necessary.
Uptime: It is the amount of time in which the visitors can access the page. You want it to be 100%, or as similar as possible to that. Uptime monitoring allows you to see if your site is unavailable so that you can do something about it. In comparison, it is known as ' downtime ' when your site is unavailable.
A short downtime period affects the organization in the following ways:
Sales
Brand Reputation
Customer Satisfaction
The first impression of the customer
What are the benefits of monitoring your website performance?
The benefits of following the website are multifaceted.
Monitoring Uptime
Uptime monitoring demonstrates or proves that your site is offline of more than an average of 7 hours 45 minutes, and also lets you know the need to move to some better hosting provider.
Drop in the revenue
The sudden drop in the revenue is solved with uptime monitoring. If you are someone running an e-commerce website, downtime results in lost revenue, thereby monitoring the uptime, which helps in explaining the curious drops.
Monitoring the visitors and the site speed
Watching your total visitors and your site speed shows you a drop in the total number of monthly visitors corresponding to the rise in the average rate of your website.
Assessment of User Journey
It is always essential monitoring the path which the user navigates on the website that helps you in acquiring data on every step. It also includes response time.
Page Loading Time
The page loading time indicator shows how long it takes to access a particular page's source code. Source code ping and loading time indicates the speed of your website.
Performance of database
Having an eye on the quality of your server will help you keep the performance of your entire website smooth and straightforward.
Web Server Hardware
A lot of things consume the disk space of a web server, including photos and video files, database entries, and log files. While writing this data to the hardware of your web server, errors and loss of data can occur.
Now, we'll show you the tools you can use to track your WordPress site and make sure you can react quickly and get your website to function again when things go wrong.
WordPress plugins are specifically designed for WordPress websites. Here are a few recommendations for reliable plugins for WordPress to track the uptime of your site.
Best Website monitoring tools (Free and Paid)