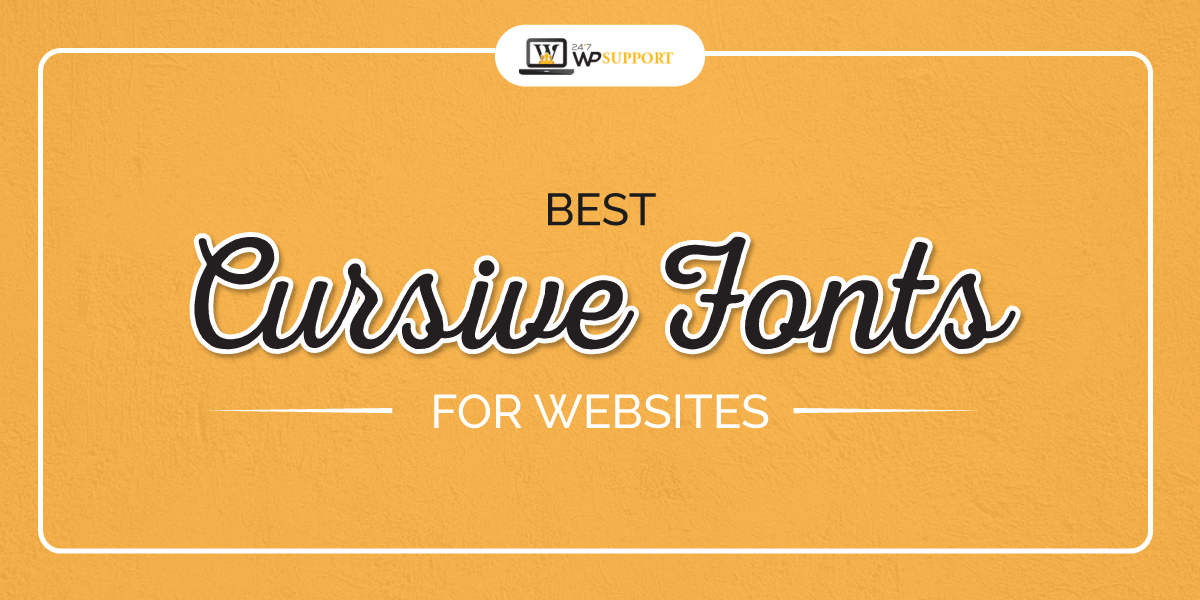 Best Cursive Fonts for Websites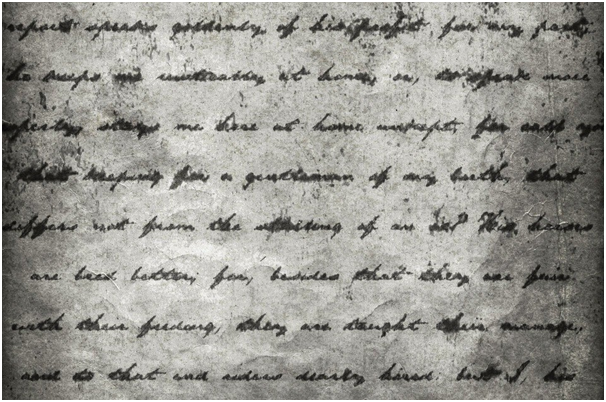 Fonts have always been an important part of every successful site. You should never overlook this fact and pay as much attention to choosing the right font. Major themes share some common fonts. However, all are not of great use.
In fact, an enhanced way to present your thoughts through content is picking out new fonts that cast a spell over customers.
Picking a fair font has never been an easy decision. Because the font you are going to choose will determine the overall interaction of your customer to your piece of content. While you can look at our list of 20+ Cursive fonts in this article, consider asking your WordPress experts about the suitable fonts too.
If you don't pick up the right charm, people will be frustrated with high contrast, dumb dancing letters, and the rudeness of your chosen font. They will have a hard time catching the exact piece of information they are looking for which is a sort of irritating thing,
Although, there is no sign of script in your body, however, some text and titles can be highlighted into fancy fonts. It will add grace to your website.
Before we hit the list of some great cursive fonts, let's have a quick look at the history of Scripts font.
History of Cursive Fonts
Several hundred years receded since the cursive font came into being. Formerly known as script typefaces, the cursive font was the influence of the physical cursive handwriting.
During the 18th century, the British were very fond of cursive calligraphy, so they designed to flex, dip, and pointed nibs. Those fancy letters were then engraved into copper plates, which functioned for printing the same.
Brush Script, however, is the origin of Asia. Calligraphy done using ink dipped brush resulted in a delicate style of writing. Later in the period, it was recreated into digital format and became a lightweight and soft style of writing. The imperfections are what make this style unique and eye-catching.
Of course, some script fonts such as Gaelic style have some strange patterns which make it difficult to read. Most of the time, it happens that the calligraphic fonts go heavy for a particular occasion.
Script typeface finds its usage in multiple scenarios. From invitation cards to flyers, you will find it everywhere. Makes sense, doesn't it?
Their usage reveals a sense of sophistication to whatever you want to convey. It also adds uniqueness and gives a personal touch to one's mind.
Where to Use Top Cursive fonts for your websites?
Let's deep dive into what portions of your content presentations on your website needs the touch of cursive fonts. Although in scenarios where you would want to convey grace, you can make use of cursive fonts, you should also be aware of few specific situations where its use is encouraged:
Official Marketing materials – Your website header areas, and blog post titles can of course be incorporated with some style. It will make the content appealing to readers.
Luxury Brand – If a company deals with luxury, it is more sophisticated to use a suaver font as well.
Formal Situation – Deal with a script font anytime you want to exude uniqueness. You must have seen certificates, awards, wedding invitation cards, as well as headers in magazines, a great example of exceptionality conveyed.
Too much impressed with the outcome, don't be overwhelmed and avoid using more than one cursive letters font at a time, otherwise, you will end up making things dirty. Remember, it should only be used to call attention to the uniqueness of the content. Using multiple cursive styles across the page will look lurid.
The Best Fancy Cursive Fonts of 2021 [20+ Top Suggestions]
Let's unfold the list of best cursive fonts to make your website content fancier and alluring:
1. Allura

A little bit straight type of fancy cursive, with a touch of 1950's style, Cookie is another nice lettering font that can enhance the beauty of your website. The thickness of this font makes it super suitable for Brand logos and titles. It's simple and not too decorative.

Widely used and a super versatile Google font available in 4 different thickness, Dancing Script is casual and resembles the popular typeface styles of the 50's having letters slightly bouncing and falling. Caps letters are slightly big and fall beneath the baseline, usable when you want a spontaneous and friendly look.

Tangerine gives you the feel of Italic up to some extent. No need to mention that it must have been inspired from italic chancery hands. The tallness stretching upward is what gives this font a unique texture. One can use this font for the title and subtitles as well.
Next comes – Herr Von Mullerhoff, a super slant script. The pronunciation of this font is a little bit difficult but it is elegant and could serve taglines and titles of your content.

The uppercase has some strange curliness and that makes it ideal for titles in particular. Precious is no wonder a super spell casting font that features all types of accents and adventure. I personally tried out this font to write my name and I felt like I am the king.

Debby is a wonderful option if you want to make your content portion look natural. It's a hand-scribbled brush typeface and is designed to feel imperfect. The irregular characters weave their own story dancing and falling. One can use it for wedding invitations, greeting cards, and flyers.

Some of you may find this font a little bit irritating but believe me Popsies something that can add a personal touch to your website. It's a sort of signature font, thus can be used if you want to make your headings handwritten. Overall, it's a creative font that can also be used to design logos.

Agatha is another fair cursive font that trails like a butterfly. The font has loopy patterns rather than rigid calligraphic flourishes. The loopy end extends far beyond the traditional end of the letter and makes it stylish. This particular font can be used for any purpose. A unique thing you can use this font for is to showcase signatures on websites.

Yet another beautiful font that is worth consideration!
This one too breaks the bounds and exhibits a loopy characteristic, but unlike Agatha, its loop doesn't extend much and ends glossily just after enough stretch.
The light and thin strokes make it minimalistic and authentic. You can apply this style to title headings and subheadings if you are writing web content; otherwise, it is worth use in Wedding invitations, posters, and greeting cards.

Lovely Coffee simplifies beauty in a truly mesmerizing handwritten font. Also, its delicateness is shown in the name itself. Precious to be used, Lovely Coffee will make your design look and feel modern. This font, however, resembles the hand lettering done on home design and decors. If you want a relaxed pace of reading, you can embed this font quickly.

Streetwear is a bold and typical script font. With a feel of 60's sports-related stuff, Streetwear adds elegance and style both in a very natural manner to whatever you create. It's suitable for branding, logos, and t-shirt text prints.

The choice shouldn't happen without this into consideration. Shalma is a true calligraphic brush typeface, which resembles home décor signs. It's simply bold, declarative, and bouncing modern calligraphic font. You can use it for posters, flyers and wedding invitations Of Course.

The first impression of this font is a little bit disturbing. It's strictly recommended not to use in text, body or subheadings of any piece of writing. Titles can be generated in this font but again not recommended, though the lines are delicate and light. However, you can use it for greeting cards and posters. Apart from that, this font can be used to leave a signature.

Amsterdam is another nice choice that combines the classic touch of the early '70s with a modern brush typeface. The font is appealing and pretty comfortable to read the text it applies to. Elegant to be used into titles and headings, however, one who praises and is thankful to should be poster makers.

Make Summer Fun is a super lightweight looking font that will make you float into the air when you read the texts in it. If your blog readers are children, you can find great use of this font. It's truly cool and creative especially when it comes to Uppercase letters. It should, no doubt, be your first choice for any arts and crafts.
Feeling lonely as the name suggests. Wait! The name is trying to fool you. This option shouldn't be ignored due to its depressing name. It's a pretty standard cursive font extending flourishes at the end and the beginning creating a fluid look. It can be embedded as titles, headings and subheadings of content.

Unicorn Confetti has a nice uniformness throughout its thickness which gives it a true feel of being handwritten. It has thinner lines and a flimsy feel. It will suit most site designs.
Hamster Script looks a little bulky. However, it mimics the real cursive with extreme boldness. The edges are squared which makes it look hand-written. The font seems to be inspired by traditional sign painting and brush lettering and is suitable for almost everything, be it branding, clothing, headlines, blog titles and posters.
Puzzled is a modern-looking script with gentle curves. Its look is a bit distinctive due to the lines that are thick and thin in places. It contains all the keyboard letters and punctuations and is perfect for adding uniqueness to your text.

18th Century Kurrent is a nice option to choose when nothing comes to your mind. The smoky words of the 18th Century and the killer slant structure make it look attractive overall. It can easily be used in poster and banner designs where the subject is translucent. It's basically useful when you focus more on style rather than reading ability.
This font is particularly good for signatures in your website.

La Sonnambula is yet another cursive font that can be considered before finalizing one. This font offers a casual look along with maintaining a fancier appearance. It feels light as if handwritten with a cursive calligraphy pen. Suited to its style and elegance are posters, banners, and other crafts.
Conclusion
You just saw some cool-looking cursive fonts from the lists that we created with the best of experience and research over it. However, there are thousands more scripts typeface, some even more fantastic.
Best Cursive Fonts